A Guide to the Best Ski and Snowboard Goggles for Men and Women
Good vision is one of the most important aspects of a successful ski trip. Not being able to see can lead you crashing into the snow (or a tree if you're unlucky), and that's not even getting into the higher echelons for skiing where you have several tight twists and turns that you need to see beforehand. For anybody serious about skiing, you need the proper snow goggles. Snow goggles are essential as they can shield your eyes from any debris that comes with the high-speed nature of skiing, as well as shielding your eyes from the cold air.
Most of the best goggles around have lenses designed to protect your vision by any means necessary, whether it's with a supporting frame, advanced technology, or other useful tricks. The type of lens can also enhance how well you can ski, as generally spherical lenses give you the most sight while cylindrical lenses give you a more distorted view. Aside from that, goggles are easy to fit, as the frame is often designed for convenience with your face and the back of your head in mind. When you get the right goggles, you can start to enjoy skiing and snowboarding a whole lot more!
Whether you are just starting out skiing or snowboarding or are an experienced skier you need goggles.
Best Ski Goggles For Men and Women
The criteria for your ideal ski goggles can vary from person to person, but the general guidelines to follow tend to have some common features such as:
Anti-Fog Coating
UV Protection
Type of Lens (Cylindrical vs Spherical)
Type of Tinting (Dark Tints vs Light Tints vs Clear Tints)
Venting
Fans
Multiple Layers
Most of the goggles below have multiple features from the aforementioned list plus some other benefits to make them more unique. So which snow goggles are at the top of their respective traits and worthy to get?
Looking for asian fit goggles? We have reviewed the best asian fit goggles and goggles for small faces here.
Best Overall Goggles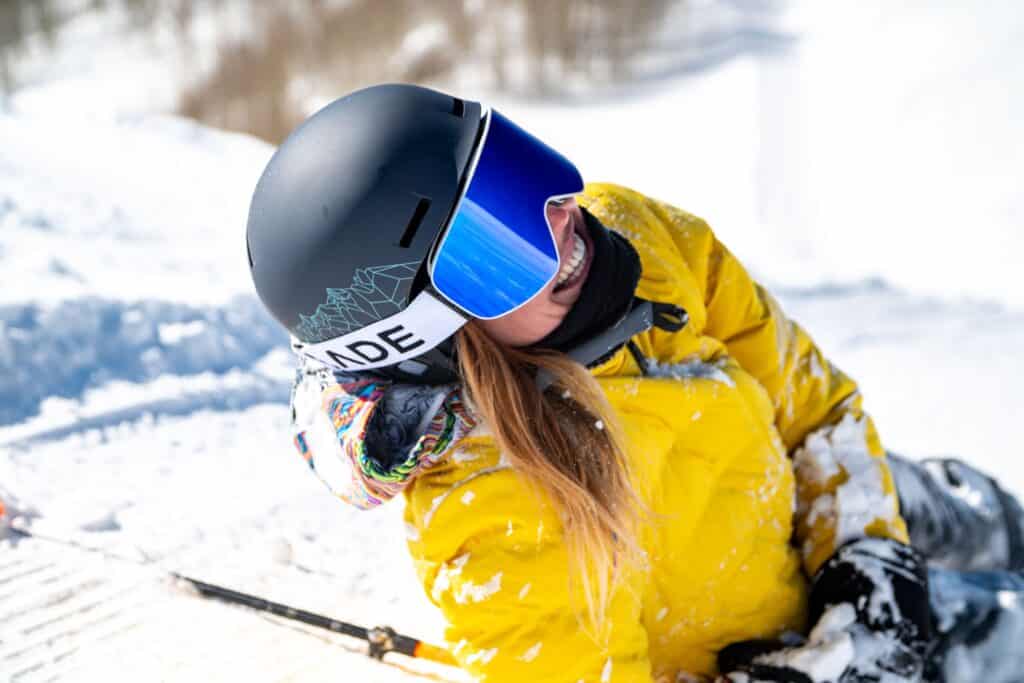 The best men's and women's ski goggles are the Anon M2. The protection offered by these goggles is extremely crucial for your vision, and the spherical lens can enhance your vision further (spherical lens widen your field of vision more than a cylindrical lens does). As lens shape is crucial to performance, you cannot allow blind spots to impede your experience when skiing, and the Anon M2's spherical design prevents blind spots from doing so. Not only that, but it is astonishingly easy to exchange the lenses, so you can change it when you need to. Vents allow you to ski without the worry of cold air that could get trapped in your face, all the while the strap easily allows the ski goggles to fit.
It's tough to find another snow goggle or two that can match the Anon M2's powerful performance. The ITC anti-fogging feature makes it difficult for the fog to obstruct your view, so your sight of the slopes won't be tarnished by such minor inconveniences. People like that this lens feels so comfortable on the face.
There are several Anon M2 options in regard to lens choices, and each lens has its benefits. You can see this in your search for anon lenses. Different tints can have differing effects on your sightline, so keep an eye out for yellow or green colored-lenses for cloudy days and darker colored-lenses for bright, sunny days. If you can get multiple pairs for different situations, then you can enjoy the many benefits the Anon M2 brings to the table.
As one of the most expensive options on the list, the Abom ONE has a lot of competition as a goggle pair. If fogging up is your biggest problem when you're skiing, the Abom ONE comes with a fan to help eliminate pesky fog for clouding up your lens. If you have several different top lenses you wish to try out, then you're in luck. Like other premier options, you can also do a lens change should you need to adapt to the environment, and the fan can continue its job just fine. Keep in mind, you have about six hours of battery life on the fan before needing to charge it.
If you want to get snow goggles with a spherical lens, this is yet another option to satisfy your hunger. It is easily the best option for a spherical lens with zero worries of fog ruining your experience. Just imagine skiing against your buddies without a spec of fog brushing against your lens. Abom ONE is the back-to-back best option for combating fog while skiing.
The POC Cornea is another item on the list that's a more expensive option, yet the price is justified by the quality features this snow goggle offers. The lens was designed by Carl Zeiss AG, a German manufacturer with a specialty in lenses such as those found within expensive cameras. As a result, the lens is top-notch, offering anti-scratch features while maintaining high durability! The POC Cornea also offers a triple layer of face foam, so your face can have that additional protection when you ski or snowboard.
The state-of-the-art venting cannot be understated. With a cylindrical lens, your field of vision is improved. The anti-fog coating is also offered in the POC Cornea, so your vision can't be ruined by the minor inconveniences that cheap goggles can't protect you from. A ski goggle should primarily be focused on protecting and enhancing your vision, and the POC Cornea is excellent in that regard.
On a more minor note, there are different styles and lens' colors offered, so you can customize it more to your liking. Customization can make your pair of goggles feel more personal, and personalization goes a long way to your identity in skiing. The frame is also soft, and when coupled with the size of this goggle, the POC Cornea is surprisingly adaptable to most skiers. After all, what good is a pair of goggles if you can't use it?
If you don't like the frames most snow goggles offer, then you might like the Odoland Frameless Ski Goggles! With no frame to consider, Odoland's goggles have a plethora of other features for you to consider. As the lens shape is spherical, your field of vision is wide, hence excellent for those who need to see what's going on around them.
The double lens aspect allows you to experience both anti-fog and top clarity! Dual lenses are also accompanied by a two-way ventilation system, so you don't have to worry about sweating as you compete with your friends and family. There are also several colors to choose from, with different tints giving you slightly different experiences. Aside from that, the Odoland Frameless Ski Goggles are also among the cheapest to buy, which is excellent considering it's better than some of the more expensive options you might see on other lists.
If you're looking for something thousands of people have tried out and left overwhelmingly positive reviews, then the ZIONOR X4 is the snow goggles to consider. With over a dozen tints to choose from, you can easily find the right pair for your specific tastes. Should you be concerned about the lens breaking, you shouldn't be! ZIONOR X4 comes with a specialized Enhanced Durability Tech designed for better impact-resistance.
As it is a safe pair of goggles, you might be questioning its price in your search. It's fairly cheap, and when you consider its anti-fogging treatment and UV protection on the lens, it easily stands up to other goggles on this list. The ZIONOR X4 is yet another pair of goggles offering spherical lenses, and it even comes with Magnetic Lens Technology, which makes it easy for any lens change you need for the situation! You can even change it back if you prefer the older lens, as it can fit great given how easy it is to exchange the lenses.
Similar to the POC Cornea in many aspects, the POC Iris is another quality product worth checking out. It utilizes a cylindrical lens with anti-fog features built-in, so it's on par with the other great options on this list. The more unique traits include two lenses, one yellow and one clear (great for more cloudy days), ultra-comfortable triple-layer foam, and a silicone strap for convenience. The two lenses give you more variety depending on the weather, and whatever you like using more. The triple-layer foam and silicone strap, when combined, makes it comfortable on the back of your head.
The POC Iris's lens is made by Zeiss Sports Optics, a top manufacturer in lenses in lens-based products. As a result, the lens in particular is of high-quality. Aside from that, the POC Iris looks cool and is great for more fashionable individuals.Best Women's Ski and Snowboard Goggles
Best Men's Goggles for Skiing and Snowboarding
Whether you like to ski or snowboard, the HUBO Sports goggles are among the most affordable, yet most valuable on the market. You could even make an argument for it being the best men's ski goggles, but the sleek design of the goggles makes it work as a unisex option. High-impact resistance means that it's an excellent option for those who are bound to crash and fall. Like a true top tier goggle, HUBO Sports gives you both UV protection and excellent anti-fog lens plus good ventilation. Another great advantage is that you get 18 months of warranty if you buy this, as HUBO boasts excellent customer support and your satisfaction is critical to their success!
With over a dozen different designs to choose from, you can easily find the right frame and lens for your ski trip. Snow goggles are essential to have, and the high Amazon reviews are nothing to sneeze at. Anti-scratch snow goggles are also nice to have, as scratches can obstruct your view and potentially let in harmful UV rays or cold air if the scratches are deep enough.
Best Women's Ski and Snowboard Goggles
If you consider versatility a useful aspect for women's ski goggles, then the Giro Facet is easily the best women's ski goggles for you to consider. Now you can use a men's goggle if you're a woman and vice versa, but that usually depends on the structure of your face. Some companies specialize in ski goggles for women, and the Giro Facet is just that! With a frameless design, the Giro Facet utilizes an Evak Vent system for anti-fog features while the lens offers excellent UV protection.
If looking good is a concern for you, then multiple tinting options are available. When coupled with the other customizable features such as the frames and straps, you can have durable and great looking ski goggles. The Giro Facet gives you the proper protection for your eyes without being over the top or clunky to use, which makes it excellent for its affordable price!
Another affordable snow goggle pair to consider, the Anon Tempest makes fantastic use of its spherical lens and its full-coverage design, offering you excellent vision throughout your ski or snowboarding trip! Being at the top of your game is important for both safety and fun, so these goggles are an excellent investment should vision be your primary concern. Its frame is lightweight, yet don't be fooled into thinking it's weak as a result of this frame! These goggles are surprisingly durable and also come with triple-layer face foam for your comfort.
Another attribute enhancing the visual aspect of these goggles is its pink SQ lens, which can make depth perception and contrast easier for you to handle. Considering the lens shape is spherical, your view as you blaze past the competition is going to be unparalleled!
Continuing on the trend for best ski goggles for women is the Electric EG 2.5. It is also another affordable option, which makes it excellent for those concerned about price. With over a dozen frame colors and half a dozen lens colors, the Electric EG 2.5 is one of the best looking snow goggles on the market. As it is a smaller pair, the Electric EG 2.5 is designed with women in mind, but can also be applied to men with a smaller face. Another bonus of the Electric EG 2.5 is the interchangeable lens that utilizes anti-fog coating, which can make it convenient if you need a different pair of lenses for the occasion!
Like other great goggles, the Electric EG 2.5 has 100% UV protection, and utilizing the easy-to-use strap allows you to notice how effortlessly it can fit on your face. Such fantastic qualities make it stand out in the crowd of a ski goggle designed with women in mind. Comfort is often overlooked, so having ski or snowboard goggles that aren't a hassle to put on is a huge bonus! If you love to both ski and snowboard, then the Electric EG 2.5 is a top-notch investment to consider.
Another pair of snowboard goggles designed with women in mind, the Roxy Rockferry is a more sophisticated option for those looking for an affordable option. If you search for affordable goggles with great durability, then you should be interested in Roxy Rockferry's anti-shatter lenses. This means that the lenses won't break when you fall, which is an extremely valuable attribute to have for equipment designed to protect your eyes, making it the best in durability for its remarkable lens. With better durability, you can rest assured knowing that the lenses are easy to clean as well.
The Roxy Rockferry is also great for comfort, as it has a fleece moisture-wicking material designed to keep your eyes dry. Considering it also comes with UV protection and tinted lenses, the Roxy Rockferry is an affordable option worth considering to fit your ski trip.
Best Ski and Snowboard Goggles for Beginners
Smith Optics' snow goggles are an excellent fit for those with a tight budget. If you are a beginner in skiing or snowboarding, then the cheap, yet reliable Smith Optics Knowledge ski goggles are a perfect option to consider! If you're concerned about fog, worry not! A 5x anti-fog lens can prevent unnecessary fog obstruction while protecting you from some harmful rays (alas, not all UV rays). One nice aspect of the Smith Optics Knowledge is that it's easy to use with helmets or eyeglasses.
This pair of ski goggles also offer some venting, which combines well with the anti-fog technology already used within the ski goggle. The Smith Optics Knowledge may not be a master of any particular category, but it does well enough in several categories to be considered worth buying, especially for its affordability. This is a top goggle that you should get if you are a beginner.
Best Over the Glasses or OTG Goggles
Do you need more variety of colored tints for an "Over the Glasses" snow goggles? The COPOZZ G7 has a moderate price for a pair with a few different, yet distinct colored tints. With premium foam, you won't have to worry about your glasses or your comfort in having both on at the same time. The foam itself is a thin layer, yet perfectly complements the double-layered lens in terms of performance. The type of lenses used are useful in terms of maximizing your ski trip, and the scratch-resistant features in these lenses help maintain reliability.
The strap of the COPOZZ G7 is more durable than the average straps you see on other OTG goggles, and the material that makes up one goggle is fairly durable. No matter the situation, you can effortlessly find the COPOZZ G7 being able to fit with your glasses or being able to fit with the back of your helmet. Should you wish to buy OTG snow goggles that are top-notch for you, the COPOZZ G7 is worth checking out.
Another Amazon's Choice on this list, the OutdoorMaster OTG is listed as the best all-around by the editorial department on Amazon. OTG stands for "Over the Glasses," which means the OutdoorMaster OTG is the premier option for those who need glasses, but still wish to ski for fun. The TPU frame also provides excellent UV protection should you get it, and the excellent optical clarity coupled with standard anti-fog lens makes it great if you love to ski and snowboard! The OutdoorMaster OTG also works great with helmets, so it can easily fit with whatever apparel you need!
Should you have further questions, you can always contact OutdoorMaster's friendly customer service. The OutdoorMaster OTG also comes with a one year warranty, so there's a huge focus on the consumer! If you want to search for it for purchase, you can check it out here and see why it's considered an Amazon's Choice and a top one at that!
Best Budget Ski and Snowboard Goggles
COOLOO Ski Goggles are an Amazon's Choice while costing less than $10! First things first, the strap is rather cheap and the goggles' quality is indicative of its price range, but that doesn't mean the COOLOO Ski Goggles are a bad option. Unlike other snow goggles, this pair can be used in activities outside of skiing and snowboarding, making it a top option for those who prefer doing various sporting activities requiring goggles. Skating, climbing, bungee jumping, etc are all handled by this! The functional lenses involved make it easy to distinguish key landmarks as you ski thanks to its contrast and brightening features.
Flexible frames are great for convenience, and COOLOO understands this! Nobody likes clunky or bulky designs, so the flexible frames help make this item stand out compared to other products on this list. With a price of $9.99 with free one-day shipping on Amazon, this is a must-have for newcomers seeking to ski right away or veterans needing an emergency replacement.
Do you need a pack of three cheap goggles? Yidmoto Ski Goggles are incredibly cheap, with a mere price of $14.99, coming in about a price of $5 per goggle pair. It isn't the best in any category sans affordability but in that regard, it is unmatched. If you have a group of friends and need the cheapest possible option that's still usable, then Yidmoto is worth the purchase. The lenses used are nothing too special but still offer adequate protection given you don't just get one or two goggles, but three of them at once!
The sizes of the goggle are smaller than average, making it perfect for adults with smaller facial features or young teens considering skiing or snowboarding. Like the COOLOO option previously mentioned, the cheapness of the goggles and its decent quality makes it suitable to use in various other fields that are not related to skiing without looking out of place. One great quality of Yidmoto is that there's a great amount of UV protection with each goggle, with some fog protection as a bonus. This is an easy pair to get, just keep in mind it's standard quality as far as comfort goes for the top or back of your head, yet it's nonetheless a good fit.
The critically acclaimed Bolle MOJO is another goggle worth mentioning on this list! With a rating of 4.5 out of 5 from almost 3,000 different clients, it's easy to see why Bolle MOJO is popular on Amazon.com. With flow-tech vents, air control is handled effortlessly by these goggles! Advanced lenses are delightful, especially since it utilizes a double lens for creating a thermal barrier between you and the cold air. A premium anti-fog P80+ helps control fog as you could expect from a critically acclaimed goggle company, and when incorporated into the lenses, you get a top tier pair of goggles.
Not only that but the Bolle MOJO also offers a double-layer face foam for your comfort. Several reviews from Amazon love to note the overall quality of this product, oft-promoting its usefulness in cold temperatures. The convenient lenses in Bolle MOJO handle UV rays excellently, and you should get it if you appreciate flow tech ventilation within the frames. If this sounds like the goggles you need, you can buy it here.
Short Summary Of the Products
To keep it simple, these are the main benefits of each product on the list and what they offer in comparison to others on the list. The ANON M2 offered excellent protection and enhancement for your vision, plus its overall high quality in several other fields of performance, making it the top product to consider. The POC Cornea is highly convenient given its size, allowing a wide variety of people to use it if they like to ski or snowboard. HUBO Sports is the option to consider if you need something cheap, yet of exceptional quality with a long-lasting warranty. It is our number two choice.
Other options on this list had certain niches sure to stand out! The Odoland goggles are excellent for those who don't like messing with their frame, as the Odoland goggles are frameless. Giro Facet is a top option if you're looking for goggles designed with women in mind, with excellent versatility to boot! Electric EG 2.5 is also designed with women in mind but specializes in better looks at an affordable price. ZIONOR X4 is highly rated by tons of people, with excellent durability worth considering. If the price is a concern, the Smith Optics Knowledge is a top-notch transitional goggle that acts as a jack-of-all-trades.
Should you love a cylindrical lens, POC Iris is the best in its class for general usage. As one of the cheapest options, COOLOO is the individual goggle for the lowest price, great for newcomers. If you want the best possible vision around, the Anon Tempest gives you that and more! If you value Amazon's personal opinion a ton, then their top-rated choice, the OutdoorMaster OTG is the best fit for your buck.
Among the final options are the Roxy Rockferry, excellent goggles with an anti-shatter lens (which is fantastic, as lenses tend to be among the first things to break). Abom ONE is, without a doubt, the best goggles for its anti-fog features. COPOZZ G7 has excellent foam, with more durable straps than average if you need an "Over the Glasses" goggles. Yidmoto is undoubtedly the best for its price, as you get three goggles for almost $15, albeit the quality isn't as high as the other options on this list. Finally, the Bolle MOJO is another top prospect worth checking out, coming with a double-layered face foam and top-notch lens!
Final Thoughts
All of these goggles are among the best of their class, easily worth checking out! You can check out a pair or two and compare what each one offers for your specific needs. Should you like multiple options offered, then you could always buy two or more goggles. All of these goggles are great to wear for the comfort of the top of your head, the back of your head, you name it! Whatever your price range is, there's an excellent goggle or two you should like on this list.
Just remember that there are several categories worth considering, such as:
The type of lens, including the tinting and how many lenses are offered.
On a similar note, the lens shape (spherical vs cylindrical).
What kind of frame is used, and how convenient the frame is for you.
The price you can afford, and if you can get it.
Do you like the way the goggles look?
The size of the goggles and if it can fit on your face or the back of your head.
With all of this in mind, you should be able to find the right goggles for your wonderful ski trips. Skiing and snowboarding are a blast to participate in, so do so safely and use the right equipment! The right kind of goggles can make or break your experience, so remember to have fun! If you want the best possible ski trip, then you're sure to like any of these goggles!
Other Gear Reviews