Best Neck Gaiters for Skiing and Snowboarding
Turtle Fur - Double-Layer Neck Warmer, Chelonia 150 Fleece, Black
Carhartt mens Force Fleece cold weather neck gaiters, Black, One Size US
Tough Headwear Reversible Microfiber Fleece Gaiter Tube Neck Warmer (Solids) - Black
Smartwool Merino 250 Neck Gaiter Black, One Size
DG Hill (2 Pack) Thermal Fleece Lined Neck Warmers, Warm Winter Ski Neck Gaiter Set for Men and Women
Condor Reversible Neck Gaiter, GREEN/ BLACK, Neck Cover Warmer, Fleece Face Mask






Turtle Fur - Double-Layer Neck Warmer, Chelonia 150 Fleece, Black

Carhartt mens Force Fleece cold weather neck gaiters, Black, One Size US

Tough Headwear Reversible Microfiber Fleece Gaiter Tube Neck Warmer (Solids) - Black

Smartwool Merino 250 Neck Gaiter Black, One Size

DG Hill (2 Pack) Thermal Fleece Lined Neck Warmers, Warm Winter Ski Neck Gaiter Set for Men and Women

Condor Reversible Neck Gaiter, GREEN/ BLACK, Neck Cover Warmer, Fleece Face Mask

What's not to love about skiing and snowboarding? Gorgeous blue skies silhouetted against brilliant snowy mountains, the rush of adrenaline as you glide, soar, jump, or race your way down the mountain, the intense surge of joy that comes with executing the perfect run.
The one factor that ​can​ detract from the love of these sports is the painful cold that sometimes accompanies them. Thick pants and jackets work to keep our bodies warm, but what about the neck and head? Neck gaiters are an easy and important addition to your skiing or snowboarding attire to ensure you stay warm and comfortable all day.
We took a look at some of the top ski and snowboarding neck gaiters to find the best of the best, considering both quality and price. One or more of these is sure to be perfect for you and your cold-weather needs.
What Is A Neck Gaiter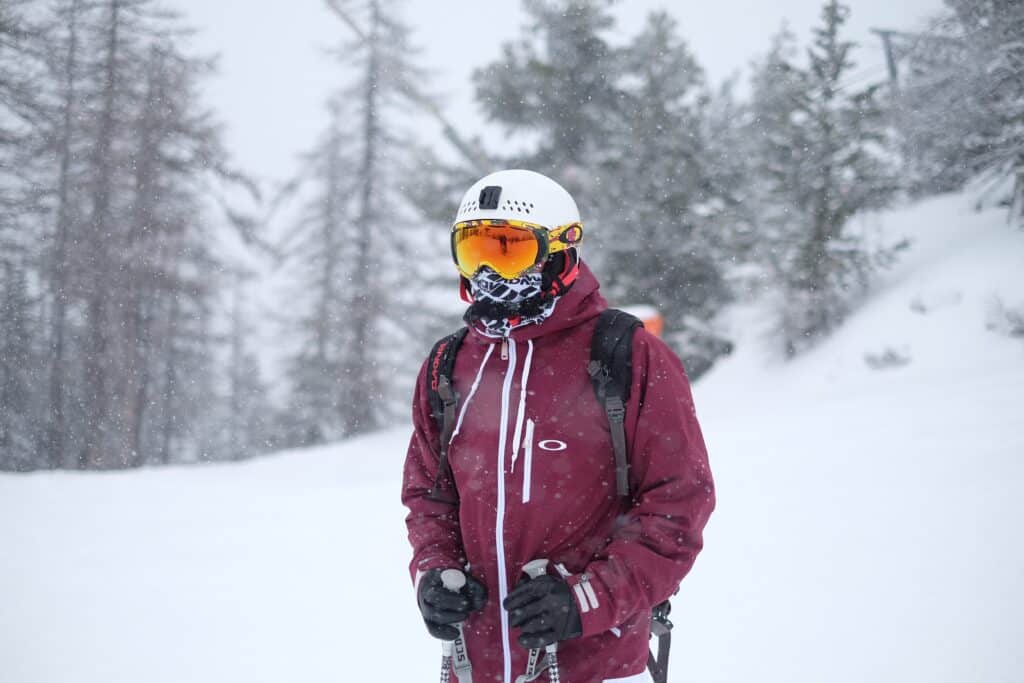 A gaiter — frequently referred to as a buff, and also a fancy name for a neck warmer — is simply a tube-shaped piece of cloth that is worn around the neck for warmth that can easily be slipped off and on over the head. Very effective in keeping your neck warm, they can also be pulled up to cover your mouth and nose. Some even have a hood, turning them into balaclavas, which can then be used to cover your head, leaving only your eyes exposed.
Neck gaiters do not only serve to keep your neck and face warm. Skiers, snowboarders, snowshoers, and other winter warriors also need protection from the intense sun of higher elevations, as well as a covering that protects their skin from wetness on the outside (snow) along with a material that wicks away wetness on the inside (sweat). Not only are gaiters a must for skiers and snowboarders, they are also a must for all cold-weather activities, from hitting the slopes to snowshoeing to walking your dog.
Gaiters come in a variety of fabrics, thicknesses, and sizes. They are typically made from one of three materials: Merino wool, polyester fleece, and acrylic. The material you chose will likely be a personal preference based on comfort and need.
Neck Gaiter Reviews
Sale
Turtle Fur - Double-Layer Neck Warmer, Chelonia 150 Fleece, Black
BUILT FOR EVERY WINTER ADVENTURE: From skiing to snowboarding, running to hiking, or shoveling snow to snowball fights, you'll be warm with this gaiter on. Designed in the mountains of Vermont we've tested this to be warm in the coldest of weather.
EASY TO WEAR: Tube design is easy to pull on over your head and can be worn as a scarf or a face mask. One size fits most design makes this a great neck warmer for men or women.
SOFT & WARM: Made of 100% Polyester Chelonia 150 Fleece we are sure this will be the softest fleece you've ever felt. Double-Layer construction ensures that you are kept warm even as the temperature drops.
EASY CARE & PACKABLE: Machine washable in cold water, and just toss it in the dryer with no heat to have it clean and fresh for your next adventure. 9.75" square and only 3.1 ounces this neck warmer is easy to throw in your bag before your next trip to the mountain.
GIVE A HAT: When you buy this neck warmer and share a photo on social media with #projectwarmth and mention @turtlefur we will donate a hat to someone in need.
Made from 100% acrylic fleece, this ​Turtle Fur Fleece​ neck gaiter offers a truly warm, soft feel for your neck and face. Constructed with two layers, it keeps warmth trapped inside — exactly where you want it. You'll also appreciate its moisture-wicking qualities, staying nice and dry while keeping you warm. It's durable and machine washable, making care a breeze.
With 10 color options and an easy-on-the-wallet price, it's a solid choice for skiers, snowboarders, and other winter activity fans. If you're in the market for a gaiter that offers a luxurious feel, quality, and is still budget-friendly, the Turtle Fur Fleece Gaiter will not disappoint.
The Carhartt brand is widely known to make quality products at affordable prices and their​ Carhatt Men's Fleece Gaiter​ is no exception. Made of 92% polyester and 8% spandex, it is not only warm but also water-resistant, making it ideal for winter sports. It is stretchy enough to get over your head while staying in place if pulled up over your nose and ears. It effectively wicks away moisture, keeping you dry and warm, while also keeping odor away.
Tough Headwear Reversible Microfiber Fleece Gaiter Tube Neck Warmer (Solids) - Black
Show Frost Who's Boss: Be ready for anything this winter. With our double-layered neck warmer, even in the harshest winter cold weather doesn't stand a chance. A layer of ToughTech polar fleece locks in the heat while a second microfiber layer wicks away moisture and keeps you dry. Bring it on, old man winter.
Winter Face Mask: Featuring two layers of woven tech fabric, our neck warmer is perfect to keep your face warm and protected when you're on public transport or running into a store this winter. It's time to swap out those flimsy disposable masks you've been using.
Adventure Time: Need an adventure buddy? Our neck warmer makes the perfect companion whether you're carving around moguls on the slopes, going for a joyride on your motorcycle, or out shoveling snow.
Get Personal: Our neck warmers are reversible — so they're always ready to keep up with your personal style. Switch between classic black fleece on one side and a bolder color or print on the other, and sport one style on the slopes and another in the streets.
3-in-1 Comfort: You could buy an ear warmer headband, face mask, and neck gaiter — or you could just buy something that does it all. Our versatile neck warmer is lightweight and has four-way stretch, so it will fit comfortably and stay put, no matter how you wear it.
Bring on winter fun with the ​Tough Headwear​ neck gaiter. The double-layered construction of this neck gaiter is perfect for retaining and trapping heat. As with the other gaiters recommended, this one efficiently wicks away moisture and dries quickly if wet — an important factor when you'll likely have powder in your face all day.
It comes in six different styles and colors, all of which are reversible giving you two looks — and extra value — for the price. The fact that it comes with a lifetime warranty is a nice bonus.
Made of 100% Merino wool, this ​Smartwool Neck Gaiter​ provides ultimate warmth without added weight. An additional benefit of Merino wool, aside from its sumptuously soft feel, is its ability to insulate if wet, keeping you warm even if you can't stay dry. Merino wool is known for its high levels of moisture-wicking ability, absorbing moisture into its fibers where it then evaporates through the exterior.
As wool is extremely damage resistant when pulled and stretched, this ski and snowboard gaiter is durable, adding to its resiliency. It can be washed on the delicate cycle or hand-washed and laid flat to dry. While the common belief is often that wool is itchy and uncomfortable, Merino wool has soft, fine fibers that are smooth to the touch. All of these qualities make it a strong choice that will last through many cold-weather adventures.
DG Hill (2 Pack) Thermal Fleece Lined Neck Warmers, Warm Winter Ski Neck Gaiter Set for Men and Women
2 pack Multi functional design neck gaiters pack for Men or women: neck warmers keep your neck protected with versatile styling options; with a fleece neck gaiter design you can wear it like a winter scarf or pull up as a face mask for cold weather
DG Hill Thermal Sherpa lined neck gaiter: the soft yet breathable fleece neck gaiters for men;with a soft Interior of sherpa fleece, the men's and women's neck warmer is warm and cozy; With a comfortable pull-on design these fleece gaiters fleece neck warmer slip over your head to cover neck, mouth, ears and face.
Versatile Winter Sports Accessories: Winter Neck warmer men and neck warmer women with moisture-wicking and thermal properties these winter buffs are great for cold-weather sports;The face cover for cold weather ideal for cycling, snowboarding, sledding, toboggan, running, commuting and other outdoor activities. It's the perfect Neckwarmer for Skiing
Double layer protection keeps you warm: Neck gaiter offers protection in the coldest winds. The outer knit thermal shell: 100% Acrylic, inner Sherpa Lining: 100% Polyester; Adult neck gaiter is one size fits most men and women, neck scarf measures 8"H x 11"L
Comfortable Functional Style: : Each set of winter neck warmers has high quality thermal yarn for max heat retention; the polar neck gaiter sets come in 2 packs of stylish colors to match all your gear choose from Grey, Black, Blue and Purple, Brown and Black, Blue and Gray, Pink and Cream.
While your winter plans may not include a trip to the North Pole, this ​Arctic Neck Gaiter​ will keep you warm and comfortable wherever your ski and snowboarding adventures take you. With an outer shell of 100% acrylic and an inner shell of 100% polyester, this neck gaiter is designed to be a skier or snowboarder's best friend. Its construction makes it soft and breathable while keeping moisture away from your skin. Its soft texture means you can wear it comfortably all day long, keeping your neck, face, and (because it's 11 inches long), even your nose and ears nice and toasty warm.
At a budget-friendly price, they even come 2 to an order. Perfect for those multi-day ski and snowboarding trips.
If you're looking for warmth and lightweight coverage without excess material, the ​Condor Thermal Neck Gaiter is a great choice. While not as long as many neck gaiters (it won't cover your ears), it's perfect if you are simply needing protection for your neck and face. Not every day on the slopes is as cold and blustery as others, so this more compact gaiter may be just what you're looking for when it's a sunny, above freezing kind of day.
The elastic at the top and base keeps it in place, while also making it easy to adjust. Its small size helps prevent you from overheating if you leave it on your neck all day as it doesn't bunch up as the longer ones do. However, if you do need to remove it as the day gets warmer, it can easily be kept in a pocket or backpack
without adding weight and bulk. Use it for skiing one day, snowshoeing the next day, and then pull it out for those mornings of shoveling snow we love so much.
Constellations Galaxy Neck Gaiter Mask Full Face Covering - Cool Breathable Lightweight Fabric Mouth Gator for Men & Women iHeartRaves
One Size Fits Most; face mask bandanas feature a lightweight and breathable 4 way stretch fabric that fits men, women, and kids; Our face covers have raw edges to maximize the stretch and sure not to scratch you; Fold it to create 2 layers for added protection and more snug fit. Dimensions: 20 x 9 inches when laid flat
Multi Functional Design; Over 12 ways to wear it; neck mask, face cover, neck gaiter face mask, gator mask, headband, wristband, scarf face mask, balaclava, face covering, seamless mask, fishing mask, dust mask, bandana, mouth cover, and more
Lightweight and Breathable; The cloth face gaiter features a moisture wicking fabric that helps cooling you down; The quick dry fabric technology lets your mask bandana dry in minutes; Our soft and breathable face mask is made from a thin microfiber polyester fabric that allows this mask to be worn comfortably for hours
The Perfect Accessory; These cool face masks are fun and offer full protection for dusty music festivals, fishing, riding, hiking, biking, motorcycling, snowboard, skiing, camping, running, paintball, traveling, yoga, exercising, riding, winter as they protect against UV, Dust, Sand, Snow, and Wind
Stay Covered; Our cooling bandana masks offer full coverage protection for women, men, and kids against UV, Dust, Sand, and Wind; Our reusable facemask covers will shield you from dust, wind, and harmful UV sun rays; Stay covered in style with our original designs
There are many reasons to love this ​iHeartRaves Neck Gaiter​, but can we start by mentioning its stunning designs? With over 30 unique styles to choose from, you can be sure to find one to match your personality. What else makes this a solid choice? The fact that it is made from 100% microfiber polyester means it not only keeps you nice and warm, but it's very quick-drying, wicking moisture away from your body, leaving you ready to keep crushing it on the slopes.
The stretchy material is very lightweight and breathable, perfect protection from the winter elements without leaving you feeling smothered. With a length of 18 inches, it can be pulled up and over to keep everything from your neck on up toasty and warm. It's amazingly versatile, with over 12 ways to wear it. So, use it to stay warm on those early morning ski or snowboarding trips, and use it later as a headband when the day warms up.
LUPA Canadian Handmade Unisex Double-Layer Micro Fleece Neck Warmer (White)
THE ORIGINAL LUPA EXTREME COLD NECK WARMER. Get excited about venturing outdoors with our must have accessory, available in an array of colours to choose from to best suit your cold weather wardrobe. Featuring our durable double-layered Premium LUPA Fleece construction, our neck warmers will keep you wrapped up in warmth, leaving risk of frostbite or unpredictable wind-chill, out in the cold.
PREMIUM LUPA FLEECE is quality you can trust. Sourced from the highest-grade fabric on the market, our lightweight stretch-to-fit material will make our products feel custom made, allowing you to experience superior warmth and effortless breathability.
HANDCRAFTED IN CANADA FOR OVER 40 YEARS. We take pride in manufacturing our LUPA neck warmers here in our Montreal factory. Each product is hand-sewn and inspected to ensure the highest standard of quality and durability, so that our customers can enjoy their LUPA products for years to come.
EMBRACE THE OUTDOORS. We live in one of the coldest countries on earth and LUPA takes pride in products that allow you to continue living your life, in the great outdoors. Whether you're seeking adventure in skiing or snowboarding, commuting to and from work or simply walking to dog, we make sure that your life doesn't freeze when the temperatures do.
MULTI-SEASON WARMTH. LUPA accessories are just what you need at the first sign of a cool breeze. Welcoming you into fall, boldly venturing into the winter, warmly transitioning into spring.
This 100% ​Lupa polyester neck gaiter​ is a choice you can feel confident about for cold winter days on the slopes. Made in Canada — where they​ know​ cold — the double-layers of the high-grade fleece of this gaiter will keep your neck and face warm enough for a long day of skiing or snowboarding fun. Each gaiter is hand-stitched and inspected for quality.
These gaiters are made of non-pill fleece so they are nice and smooth against your skin and have exceptional breathability. Being machine washable means one less piece of cold-weather gear to worry about dry cleaning.
With 19 lightweight, stretch-to-fit colors to choose from at an affordable price, you may decide you need a couple of different colors to match your ski or snowboard attire.
YIBEIYI Ski Neck Warmer - Fleece Face Mask Neck Gaiter Outdoor Sports Windproof Mask … Black
PROFESSIONAL FABRIC: This neck warmer uses 250 type fleece and coolmax material, silk soft and close to your skin, double layer design. Keep your face or neck warmer and more comfortable when do some outdoor activities. and the material is breathable, help you to breath the fresh air
ONE SIZE FIT MOST: length 17.8", width 9.9" size, stretchy and adjustable, this neck gaiter is suitable for men and women. when you wear it, you will feel comfortable, not tight and solid. One size fits most people. instead of slip or tight
ATTRACTIVE FUNCTIONAL WARMER: Windproof film design, moisture wicking and quick dry fabric is antistatic, meet your needs. This neck warmer is multifunactional, besides as neck warmer, it is also as neck gaiter, hat or face mask
VERSATILE NECK GAITER: 3-in-1 adjustable design, necke wramer, neck gaiter, and hat or half face mask. perfect for running, skiing, snowboarding, hiking, camping, cycling and other winter outdoor sports. Especially adjust it as half face mask when you snowboarding and skiing, without the fog leave in your goggles
SPECIAL DESIGN: As for seams of our neck warmer, we adopted adavnced four needle sixe lines, more durable,edges will not unravel easily, can use it longer time. Even after wash many times, it can stay the shape well, and do not shrink
Whether skiing, snowboarding, snowmobiling, snowshoeing, or any other activity involving snow and cold, the YIEBIYI Ski Neck Warmer​ will not disappoint. Made of mid-weight fleece and Coolmax material, it's double-layer design is silky smooth next to your skin, all while keeping your neck and face warm and comfortable. Its windproof construction, moisture-wicking properties, and just right fit means you'll stay dry and comfortable for a long day of shredding.
At 17.8 inches in length, this neck warmer can easily be a face warmer or even transition to a hat. While it is a one-size-fits-all for men and women, it is stretchy enough to put on easily without being too tight or slipping down constantly. A solid choice.
Final Thoughts
Neck gaiters are a perfect, simple, affordable way to get some added protection from the elements and increase your comfortability factor when indulging in the numerous cold-weather adventures to be had. It's a drag to have to decide between another run on the mountain or another trip to the warming hut in order to feel the lower half of your face and neck again.
Whether your activity of choice is skiing, snowboarding, snowshoeing, snowmobiling, or a bit of each, adding a neck gaiter to your repertoire of cold weather protection can help guarantee additional time doing what you love.