Best Ski and Snowboard Boot Dryers
The last thing you want when you're getting ready to head out onto the slopes is wet and damp boots. There's plenty of time for that afterward, so you want to make sure you've got yourself the best boot dryer for ski boots that you can possibly get.
You might be thinking that snowboard boot dryer models are more or less all the same. You would be wrong. While anything is better than nothing, there is a clear difference in quality in the drying and heat prowess of certain better units.
Best Portable Ski Boot Dryer
That's why we're only going to be talking about the best portable ski boot dryer options that money can buy. That's not to say that we're not considering all budgets, though. Our aim is to give you the most bang for your buck when you're shopping for your snowboard boot dryer.
There are a few different things that we look for in the best ski boot dryer models. The best ski boot dryer needs to be versatile, fast, and affordable.
No single ski boots dryer fits all of these criteria, but most of them fit just enough to make the investment worth it.
The Peet Original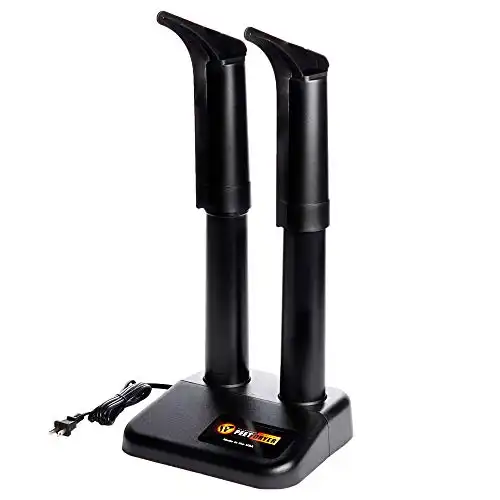 We're going to sum up the quality of this snowboard boot dryer in one phrase: 25-year warranty. If the model breaks within 25 years of purchasing, then you get your money back. If that doesn't scream confidence, then we don't know what does.
The Peet Original makes use of the modern design being used in boot drying and heat technology these days. The unit features dual extension tubes that you slot your boots over upside down. It's a design that not only works well but looks good and is easy to use as a part of your room setup rather than just being an accessory.
The Drying
Being modern and fancy is all well and good, but how well does the dry heat levels of The Peet hold up? Remarkably well.
The Peet Original can dry your boots in a minimum of three hours of usage all the way up to eight hours. If you need your boots dried faster than that, then your only option is to set them on fire or buy a new pair altogether. As far as the standard timing on the market is concerned, The Peet definitely holds its own.
It's not just how well the heat properties of The Peet Dryer is, though. How the unit actually dries the boots is just as important, if not more so than the speed. There's no point in blasting your boots with hot air only for them to get half dry and stuck with a smell. Having a 3-hour use window is no good if wearing the boots is miserable.
The Peet has that covered, though. Not only does it use a rising heat air drying technology to lift the moisture out of your boots, but it actively deodorizes them while it works.
The unit works on all kinds of footwear and materials, too, so if you want to expand outside of your skiing and snowboard adventures, then you can.
It does all of this while using less electricity than your standard lightbulb, too, so you can dry your boots without worrying about the effect the heater is having on your electricity bill or the environment.
To top off the entire package, this snowboard heat drying unit is completely silent. You can rest easy after a long day on the slopes without that irritating humming that a lot of other traditional ski boot dryers have associated with them.
Pros and Cons
Pros
The heat ski boot dryer drying technology that The Peet makes use of can provide a means to not only dry your boots out but do so in a manner that eliminates odors and moisture.
The heater actively deodorizes your boots while in operation, further helping to get rid of bad dry smells.
You get a whopping 25-year warranty on the heater, but you do need to sign up to take advantage of that.
The unit looks well and can dry both boots at once, although only one pair at a time.
The Peet uses a tiny amount of electricity, making it great for the environment.
Cons
Only being able to dry one pair at a time is still an issue with a lot of snowboard boot and glove dryer models.
The 3-hour timer to eight-hour timer, while standard, is nothing special compared to some faster-charging units out there.
The price point is great in the grand scheme of things but does clock in a little higher than some comparative units out there. Not all, though!
Conclusion
If you're looking for a snowboard boots and shoe dryer that is going to look after your boots the same way you would, then The Peet is your model. It might have a slow 3-hour timer, but it's the best at getting rid of smells and moisture from your boots.
OdorStop Boots and Shoe Dryer
This model is premium even compared to the best of the best garment dryer units out there. Thus, if you've got your sites set on something premium, make sure this snowboard boot dryer is on your list.
Think of the OdorStop like The Peet dialed up to 11. It has most of the same great ski boot dryer features that The Peet has, but better and more of it. For that extra bit of dry oomph, you are going to be dealing with a substantially higher price tag, so bear that in mind.
It uses that same modern design, but this time it comes with two boot brackets instead of one. The fact that it comes with two extension tubes not only means that you get to dry two pairs of boots at the same time, but you also get the option of drying things like your gloves.
The Drying
Take one look at the price tag of the OdorStop and you've going to wish you stuck to using the hairdryer instead of a boot dryer for your ski boots. Compared to a lot of your snowboarding equipment, it's not that big of an investment, but it does look that way when lined up to its ski boot dryer competitors. That being said, it's the best ski boot dryer out there today.
Therefore, how does this best of the best unit earn its price? Simple. Quality.
Not only does the OdorStop deliver the same kind of odor-free drying that The Peet snowboard boot dryer does, but these dryers take a fraction of the time to do it.
These dryers take the liberty of the use of both a heater and a high output fan to dry your boots. This does mean that you're going to be using more electricity than your lightbulb, but the tradeoff is more than worth it for your ski boots.
The dryer is designed to fit all sizes of snowboard boots, so you don't have to worry about whether or not it's compatible.
As well as using the same tech that The Peet uses, but better, the OdorStop also deodorizes while the ski boot dryer is in operation. This should explain why this is widely considered the best option on the market.
It comes with a built-in three-hour timer that has an auto-shutoff, so you don't even need to stick around while your boots are drying. This goes hand in hand with the three-hour length that it takes the boots to dry. You arguably could push that up to two hours in a pinch, but you should avoid that as much as you can. Allow the air to dry your boots properly as often as you can.
This unit, while heavy-duty, does only come with a three-year warranty. That seems puny compared to the massive 25 years offered by The Peet, but let's not forget that number is extremely excessive. Three years is more than enough coverage as far as we're concerned.
There is one downside that we have to mention, though. Despite the fact that it comes with two tubes for your boots, you can't really use it indoors. The ski boots deodorant that the unit creates is so powerful that it can make the room it's operating in a bit of a nightmare to navigate.
Despite that, the OdorStop is still easily the best option on the market by a long shot. It might not be the best in terms of price, but the sheer quality of the unit blows all of the competition away.
Pros and Cons
Pros
The OdorStop has been designed to ensure that it's safe for all heat molded ski boot footwear that you might be wearing.
We all know how awkward certain bits of snow gear can be. Thankfully, the OdorStop team knows this as well and included extensions that can fit pretty much and boots or shoes you need to dry.
The drying time on the OdorStop is incredibly fast when compared to the cheaper models out there.
Being able to dry two pairs of boots or shoes at once can be a lifesaver, epically if you ski or snowboard with a partner.
The customizable options and auto shutdown are some quality of life improvements that you didn't know you needed. Dry boots become an automatic procedure with this dryer, which is a lot more than can be said for other dryers out there.
Cons
Not being able to dry your boots with the deodorant in a small space can be annoying, depending on where you have it set up.
The OdorStop is a fair bit pricier than most other dryers out there. You can't really put a price tag on a warm pair of dry boots, though.
Conclusion
To sum up the OdorStop, we're going to regurgitate what we've been saying for this entire entry. This is the best option for those who need to dry their boots on the regular. The drying time is almost second to none while also not being of subpar quality.
It's a premium model that delivers a premium service, which is all we ask for in a boot dryer.
DryGuy Force Dry Travel DX
The Peet dryer and the Odorspot are both great and all, but those units aren't going to cut it if you need a dryer to bring with you on a ski trip. Those dryers are the type that you have set up at home in your shed, not the kind you throw in your travel bag.
That's where the DryGuy comes in. Rather than suggesting you get this over the other units we've already talked about, we recommend that you pick this up alongside any main shoe dryer you decide to get.
The Drying
First and foremost, it should be obvious that the DryGuy Force Dry is not like the other dryers we've talked about. There are no shoe dryer poles like with The Peet dryer or the OdorSpot that fit all your ski pair of boots needs. That design is just not portable.
Instead, the DryGuy works with an interior design. What do we mean by that? Well, rather than putting your pair of boots over the dryer, you're putting the dryer into the pair of boots.
These dryers are small enough to fit in the sole of pretty much any type of ski boot, meaning you're getting the same level of boot dryer versatility but without the hassle.
It operates on an AC DC power adaptor, meaning it's perfect for portable use when you might not have access to a mains outlet. In particular, you can hook this boot dryer up to your car.
Of course, the decreased size and scale means that you're not getting the same level of quality as you would with something like The Peet Boot Dryer. Rather than a fully odor eliminating system, you're only really getting warm air here. That being said, the warm air does the job in a pinch; just don't make that your main method of drying your ski boots.
As well as the quality of the warm air dry, you also have to take the time into consideration. The Peet Dryer can finish in up to eight hours. The OdorSpot takes three. You're not going to be getting numbers like that with this warm air system. If you plan on using the DryGuy, make sure you're prepared for an overnight job.
Pros and Cons
Pros
The DryGuy Boots Dryer is super portable. It can fit into most purses, bags, and other kinds of hand luggage. In other words, if you have a ski trip coming up, pack this guy away.
The dryer actually does a decent job considering the price and size of it. It can't compete with some of the other, more expensive dryers on the market, but it's not meant to.
This AC DC power adaptor means the DX Boot Dryer can dry your pair of ski boots from the car if need be.
Cons
The Travel Dry DX Boot Dryer struggles to keep up with a lot of the regular ski boot dryers out there. It does well against other portable units, but it's incomparable to the likes of the OdorStop.
Despite the size, the expectation of an overnight charge is still annoying to see from ski boot dryers these days.
The Travel Dry DX Boot Dryer isn't going to eliminate odors, as well as some more premium options you have at your disposal.
Conclusion
The best ski and snowboard ski boot dryers aren't just about delivering a stellar performance. You have to account for versatility and price. A ski and snowboard boot dryer might be able to dry your boots in 30 seconds, but what good is that if the thing costs a small fortune and is the size of a truck?
In this regard, the DryGuy DX Forced Air Boot Dryer is one of the best pieces of hardware we feature on this list. It shouldn't be your go-to ski and snowboard boot drying solution, but there's no reason for it not to be one of them.
Dry and Warm Footwear Drier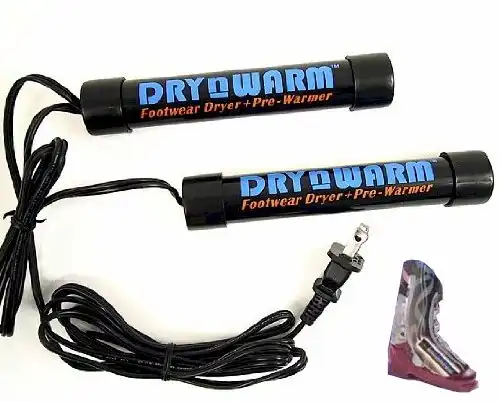 The Dry and Warm is The Peet to the DryGuy DX Forced Air Boot Dryer's OdorStop. It's a cheaper alternative that gets the job done, albeit slower and with a lower quality performance.
It doesn't look as good as the DryGuy Travel Dry DX Forced Air Boot Dryer, nor does it deliver the same level of versatility. Versatility is the name of the game with snowboard boot dryers like this, and the best ski boot dryers follow in that regard. The Dry and Warm does not, so keep that in mind.
The Drying
The DryGuy Travel Dry DX might take upwards of six or seven hours to dry your ski boots. If that can be considered an overnight job, then the Dry and Warm is a REAL overnight job. It can push up to 10 hours in the right conditions, which isn't great for most snowboard boot dryers. It's important to remember what we're dealing with when it comes to boot dryers like this, though.
It also doesn't have an AC DC power adaptor, which is a major blow to how versatile the boot dryer is, but it can't be helped.
The quality of the dry isn't great. It uses convective heat as opposed to the air systems utilized by most modern snowboard boot dryers. It gets the job done, but again, it pails in comparison to the big boys out there.
Pros and Cons
Pros
The Dry and Warm is a great option for those on a very tight budget for their snowboard boot dryers. Just remember that your ski boots are going to look after you if you look after them.
Being portable is always a plus for boot dryers, regardless of anything else.
Cons
The Dry and Warm is outclassed by pretty much every other one of the best ski boot dryer models on the market.
It doesn't use air heating like the other best ski boot dryer models, and it suffers because of that.
The Dry and Warm has a very long dry time that can take all night to dry your ski boots at times.