Best Ski and Snowboard Helmets for Kids
Skiing is one of the most fun and exciting winter activities that you can try with your family! However, to enjoy this sport properly, you need to ensure that everyone is protected against every kind of injury or accident that may come. While safety has to be a 'norm' among everyone, children need a bit more protection. That's why we have created this list of the best ski helmets and snowboard helmets for kids.
One of the most common injuries that you can sustain while skiing is head injuries; in severe cases, the skier can momentarily lose consciousness, which is a severe deal, especially for children.
Taking that into account, one of the most popular ways to protect yourself and others while doing this activity is by wearing a helmet. When it comes to children, they might want their skiing gear to look fantastic and also to be comfortable! There are a lot of brands out there that provide comfortable, effective, and beautiful skiing helmets for kids.
We prepared a list on the best snowboard helmets for kids to help you decide which one to choose before you go into the snow with your child. If you want to know more, keep reading!
Best Helmets for Kids for Skiing and Snowboarding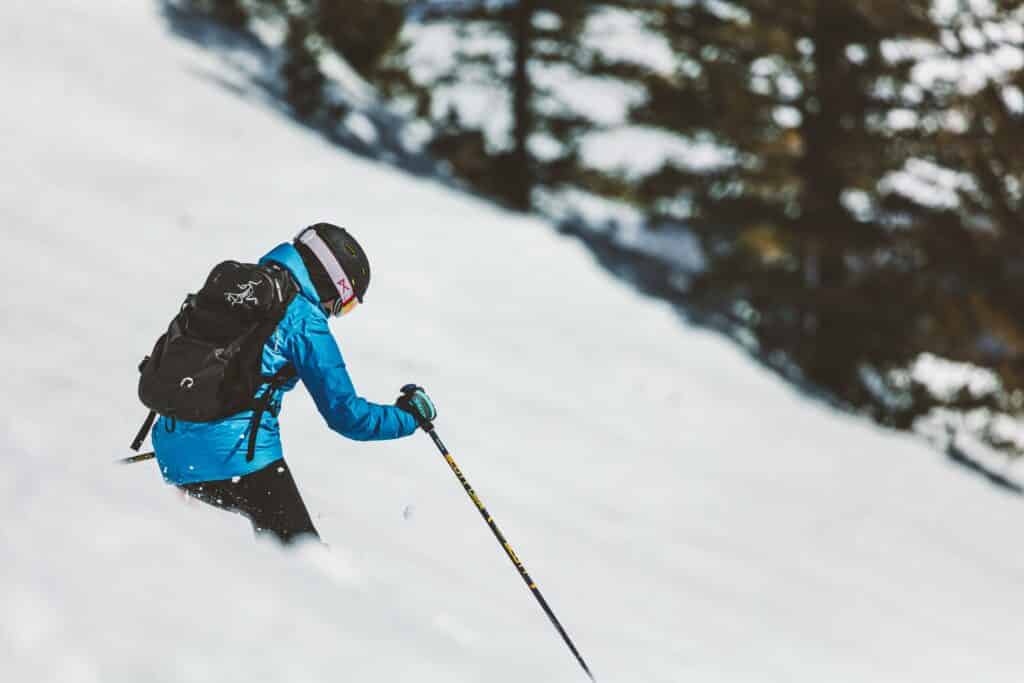 Does your kid wear glasses? If the answer is yes, this helmet is a perfect choice! The Anon Define helmet is designed to protect your children in the best way possible by using a fit system that consists of a magnetic snap buckle that keeps your child's glasses from falling off.
This helmet is made with classic but practical fleece liner and ear pads that offer the right amount of warmth, so your kids can enjoy their snowboard activities without worrying about losing their glasses.
You can find this helmet in green, camp blue, and black. Its target group is unisex, so it can be used by girls and boys with no problem at all. You can find the Anon Define helmet here.
If your children are all about amazing colors and protection, this can be the way to go. This is one of our favorite options from the list because it comes in a massive variety of matte colors such as blue, black, red, pink, lime, and many others!
However, that's not everything that you get with this helmet. These ski helmets come with an in-form fit system and in-mold construction, which makes it a very comfortable choice for your kids. If you're planning on going into a ski and snowboard activity all day long, you need something comfortable, and this is the answer to that problem!
Aside from the safety measures taken by this brand, this helmet for ski comes with easily-adjustable goggles. These goggles are made with an anti-fog coating, so you can guarantee that your kids are not going to have any vision problems.
This helmet comes in many sizes ranging from extra small to medium, so it's suited for a wide variety of kids. You can read more about this helmet here.
We chose this helmet because it has the proper safety measures checked out, as well as a fantastic design that can make any child really excited while using it! These ski helmets are made from polycarbonate and carbon composite, and they have an RCS QR fit system that ensures comfort and safety.
The buckle in this helmet makes it easy to put in on even with gloves on, so you don't have to worry about your kid's safety while going into some rough snow mountains. However, the most amazing feature about this skiing helmet is that its ear pads are fully compatible with wired or wireless earbuds! You can ensure your little one's safety while also making them go snowboarding in style.
This helmet comes in blue, ultraviolet, and black, and it's suited for both boys and girls. You can read more about this great product here.
Giro makes another appearance in this list, and for a great reason! It's one of the most trustworthy manufacturers for ski helmets. Ski parks can be dangerous, but with one of these helmets, your little one is not going to have any problem.
One of the most important things to keep in mind while shopping for a helmet is that it fits your child; if it doesn't, then it cannot provide proper protection for them. Thankfully, this helmet provides a great 'In-Form' feature, which makes sure that the helmet properly fits your kids.
Another useful feature of this helmet is that it comes with eight 'Super Cool' vents. Their function is to take cool, fresh air inside the helmet while pushing out the heat. This is fantastic news for your little ones since they can be comfortable all day while wearing this helmet.
You can find this helmet in black, white, and purple. The sizes available are extra small, small, medium, and large, so you have a lot of options for your child. You can read more about this helmet here.
If your main focus is safety for your children, POC's skiing gear is one of the best choices that you can get! This product provides one of the most advanced fit systems for a helmet. If you want to ensure that your child is well-protected by the latest technology, consider giving these helmets a hard look.
These helmets feature a patent-pending POC Spin feature. This allows the helmet to reduce the amount of force transmitted to a child's head in the event of a severe snow accident. To take it one step further, the helmet features an integrated LED panel at the back; this is to make it visually easier to know where your kids are in severe snow conditions.
The POCito helmet features one of the most high-quality designs we've ever seen in a helmet, so it covers safety measures very well. You can read more about this product here.
A great way to ensure your child's well-being is to get new and useful skiing gear. Sweet Protection does an amazing job of covering every safety measure while providing a fantastic design that your kids can fall in love with. These helmets feature world-class comfort and protection with a shock-absorbing EPS liner, as well as some impact shields within the helmet to ensure a higher level of safety for your kids. With this technology, you ensure that the helmet properly distributes the impact to protect your young one's head.
Aside from all the comfort and safety technology, the helmets come in beautiful colors such as matte ruby red, matte flash blue, and matte cody orange. As for the size, you can choose from small-medium and medium-large. Read more about this product here!
Frequently Asked Questions About Ski and Snowboard Helmets for Kids
What is the Appropriate Age for a Kid to Wear a Ski Helmet?
Regardless of your child's age, we recommend that you get them a helmet as soon as possible. This is even more important if your child is starting to learn new snowboarding techniques or if they are very young. Using a helmet has never hurt anybody, and they unquestionably come in handy for extreme skiing situations where an accident is more likely to happen.
What is a MIPS Ski Helmet?
These kinds of features offer you an extra layer of security to your helmet. Ski is all about control and practice, but in the event of an accident, a helmet is one of the only things that can save your children's head from a severe injury!
MIPS stands for: 'Multi-directional Impact Protection System.' It works by designing the hard shell, so it ensures that your child is protected from a head impact at any angle. Products like the 'Giro Launch Jr. Helmet' provide this kind of technology, which is excellent for parents who want their children to be as safe as possible.
How Do I Choose the Best Ski Helmet for Kids?
After doing thorough research on measures to ensure your young one's well-being, we concluded that the best way to choose a proper helmet for them is to keep in mind four main things: shell material, ventilation systems, weight, and fit systems:
Shell Material: The shell makes sure that the helmet absorbs the head impact properly. The higher quality the shell is, the better for your kid's head.
Ventilation System: If you want your child to be as comfortable as possible, consider getting helmets that come with proper ventilation systems. These systems ensure that fresh air goes inside the helmets while pushing out the heat.
Weight: When it comes to helmets, you need to look for something that isn't too heavy. If you wear something heavy on your head, you may feel fatigued after a few hours.
Fit Systems: You need to look for helmets that aren't too loose or too tight on your child's head. Do your best to get a helmet that fits your child correctly to ensure their safety.
Conclusion
Going snowboarding is an enjoyable activity, especially for your kids! However, you need to make sure that you get the best ski gear for you and your little ones if you want to avoid any possible injuries. There are a lot of great brands to choose from, but if you do your research properly, you can get something stylish that fits your kid!
Other Ski and Snowboard Gear for Kids
If you are looking for more ski or snowboard gear for your kids check out our other articles below covering all the essentials you need for a fun family trip!