Best Ski Gloves and Mittens for Kids
Selecting Ski Gloves or Mittens for Your Kid
You don't want your children to have cold hands doing something they love, so why not invest in some gloves? Ski gloves are essential for protecting your hands from the harsh cold climate associated with most ski resorts, especially for kids (as they have smaller hands and generally less fat to keep them warm). However, it isn't as simple as just picking one out of the bunch, as there are many types of gloves or mittens each with their advantages over one another.
Some factors you should consider is if the glove has synthetic insulation (trapping warm air), or if it's waterproof breathable (keeping moisture from getting inside, yet allowing moisture to get out), and the budget of the gloves you can afford to buy.
Durability is another concern, as gloves that wear and tear may expose your boys or girls to cold air, and a child's hands are incredibly sensitive to freezing temperatures. Other more niche advantages can also appeal to you and your child's safety, so look over what each apparel offers. Skiing is a great way to unwind, but you should provide proper precautions for your kids in the form of reliable gloves for skiing.
Gloves vs Mittens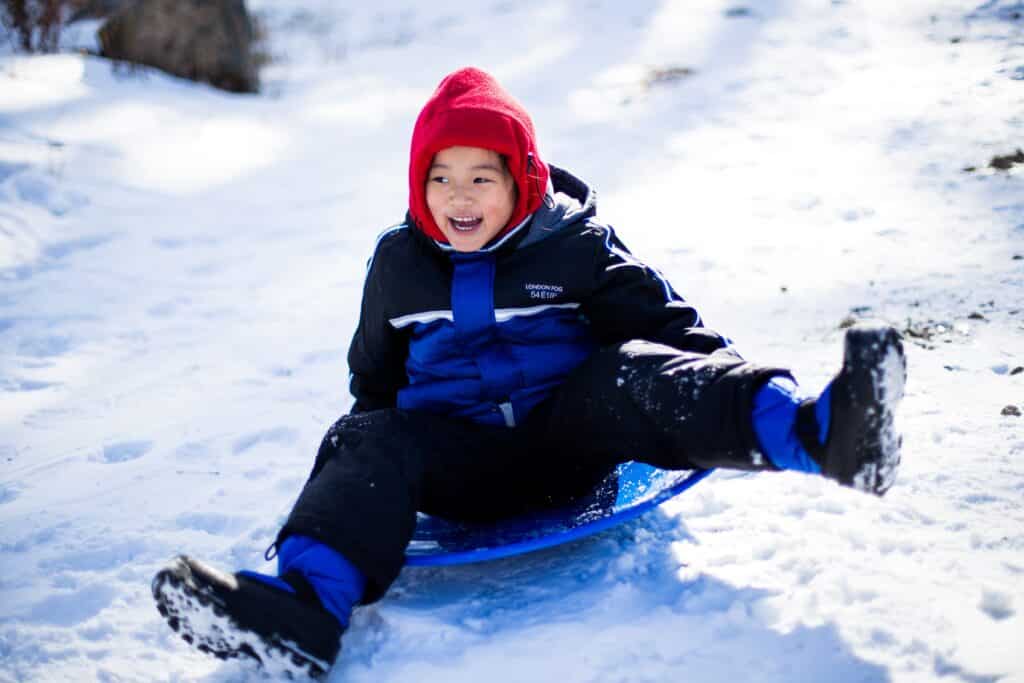 First things first, you need to decide if you prefer mittens or gloves for your child's skiing or snowboarding activities. The main advantage gloves provide over mittens is that a glove's design allows the user to be more dexterous, as the fabric is lighter and you're allowed to move your fingers in a more 'free' way. Being able to move your fingers about allows you to have more control when skiing or snowboarding. Specific activities like cross-country skiing may prefer gloves as you don't need mittens to stay warm during it.
A mitten's main advantage is providing more warmth to the person wearing it. It may provide you less control over twists and turns compared to gloves, but the thicker fabric and material utilized in it provide more immediate safety (especially since your children typically start in easy courses and don't need to turn often). Both options are excellent investments for keeping your children safe, so the main factor to consider buying one lies down to the specific niches it can provide to your son or daughter.
For more information about the pros and cons of mittens and gloves for skiing and snowboarding, check out our post here.
Best Gloves & Mittens
The best ski gloves for kids are what every good parent wishes to know. Likewise, the best ski mittens for kids is an important topic to discuss for the safety of your child's hands and the answer often overlaps between the two categories. Both subdivisions can get you the help you need in protecting your children on their first ski trip. All of the options below are wonderful choices to consider, especially as you teach your boys and girls how to ski. Going down the slopes at a high speed can be an exhilarating experience, but it's always important to keep your children safe! Always remember to get their hands warm, and these kids' gloves often provide the synthetic insulation necessary for a fun, healthy time!
Starting off the list is an option available as gloves and as mittens depending on your child's preference. It is a more pricey option to consider, but the benefits of the pair cannot be understated! Even as a pair of gloves, the Hestra Junior Heli is incredibly warm, with a Bemberg insulation liner that can be removed to prevent you from overheating on a warm day. Kids love bright colors too, and the Hestra Junior Heli comes in several options, so your child is bound to find one that suits them. Finally, it's extremely durable, and when coupled with waterproof, windproof, and breathable features, this is an excellent option for your children. These excellent traits easily make it the best snowboard gloves for kids!
Abbreviated as CYWM, this option is the premier budget choice for parents looking for a warmer option than just standard gloves. The CYWM is waterproof and provides a soft nose wipe your children can use when necessary. It can also be used for snowboarding, so it's easily the best snowboard mittens for kids in the budget category. Even as a budget option, it can help keep your kids' hands warm, and with its impressive durability, it could be used on multiple trips without worry.
The Burton Vent Gloves are an excellent kids' ski gloves that double as a snowboarding glove pair. The synthetic insulation is top-notch, and the waterproof membrane that's inside of the glove is surprisingly comfortable, which makes this a good option for more picky boys and girls who complain about having to wear gloves. As it's waterproof, your child's hands are never going to be wet, which prevents your kid from freezing up and suffering from conditions such as frostbite. The Burton Vent Gloves are the best kids gloves for convenience, and its hard-wearing protection can make the ski glove double as a snowboarding glove.
If you wish to make sure that your child's hands are best kept safe, then the Burton Youth Gore-Tex Gloves are a wonderful option to consider. It's very warm and durable, allowing you to use it for several of your children without worrying about wear and tear. This durability means that you can take advantage of it being fully waterproof and windproof, which in turn means that your children can ski more safely and effortlessly. If you need a ski glove, then it's arguably the best in its class, so you can watch your kids ski like a pro wearing this.
If you need another affordable option for your kids' ski trip, the North Face Youth Revelstoke is another worthwhile option to consider. This glove can get you all you need at a low price, as it also provides ample insulation for most winter scenarios, and the Hyvent inserts help deal with potential moisture problems some other gloves may fail to address. Should you wish your child to be great at skiing, then it's paramount that they learn the natural hand movements associated with skiing. Skiing the wrong way can teach bad habits, and the North Face Youth Revelstoke gloves naturally promote a natural position for your kid, as it possesses radiometric articulation, thus allowing better circulation throughout the body while going at high speeds.
If you need a mitten or two for your toddlers, the Spyder Bitsy Cubby is the pair to get! Even toddlers can enjoy a safe skip trip, especially with your guiding them along the way. This affordable pair is made out of polyester fabric, so it's both waterproof and breathable (excellent traits to have as toddlers can't communicate as well as older children, so it's more important for them to be safe right away). Not only that, but it provides good insulation without being too heavy for your little kid, and with the previous attributes, your kid's hands will be dry going down some minor slopes. It even comes with a lifetime warranty!
How to Maintain Your Gloves
Everybody who has a child knows that they tend to lose gear and other equipment from time to time, so this is an inconvenience that should be addressed right away. The first thing you should do to counteract this is when you obtain a glove or two, you should write down your child's name on the glove, along with a method to contact (such as a phone number). This can help somebody who finds the lost glove return it more easily, as kids' gloves tend to get misplaced easily.
Predictably, your child grows over time and eventually needs a new size of gloves. The best kids' gloves should be durable, yet easy to return to the manufacturer for an exchange of a larger pair. The Hestra Junior Heli, for instance, has a lifetime warranty that allows you to more easily exchange the pair when the time comes. If you have several children, then you can also pass the pair down the family tree so you don't need to return it as soon.
The Factors That Make These Gloves Stand Out
All of the above options are excellent in their own right, but what pushes them over the edge in terms of excellence is how well they maintain some key factors that always keep them relevant throughout a skiing season. One crucial example is the warmth of the gloves, which is generally provided by insulation and thicker materials that are guaranteed to keep you or your family's hands warm during the colder days. Most of the above options also offer some form of waterproofing, which is different from mere water resistance. A waterproof glove rejects water from getting in entirely, as opposed to a water-resistant glove that only blocks out some water.
Waterproofing alone doesn't prevent your hands from getting wet, as you can still sweat during intense exercises like snowboarding or skiing. This is where breathability is essential, and gloves like the Hestra Ski Junior Gloves and the Burton Youth Gore-Tex Gloves excel in this. A lot of these traits can carry over from a glove to a mitten, so it's important to look at each manufacturer's website to see more specific details. You have the best kids around, so don't they deserve the best glove or mitten combo around?
Other Ski and Snowboard Gear for Kids
If you are looking for more ski or snowboard gear for your kids check out our other articles below covering all the essentials you need for a fun family trip!