Best Ski Poles for Backcountry Skiing
Backcountry skiing is one of the most adventurous and adrenaline-pumping categories within the sport of skiing. The chest-deep powder, obstacles, and other thrills are also met with a number of hazards, like avalanches, drop-offs, and more. Backcountry skiing requires a lot gear, and because that gear can be costly, you want to make sure you purchase quality equipment the first time around.
That's why we've scoured the market for the absolute best backcountry ski poles out there. A quality backcountry pole is lightweight, comfortable, and often adjustable for all types of terrain. The following are the best of the best ski poles for touring we've found.
Black Diamond Razor Carbon Pro Ski Poles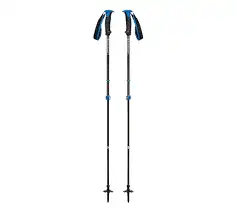 The Black Diamond Razor Carbon Pro is at the high end of the backcountry ski pole category. However, you absolutely get what you pay for. This pole features a two-piece design with a carbon fiber lower and sturdy aluminum upper. It's also lightweight — just 18.4 ounces — for venturing uphill in steep backcountry terrain.
This is a lightweight yet durable backcountry pole with technology that's easy to use, even in frigid temperatures and deep snow. The FlickLock Pro adjustment system does not slip, whether you're ascending or descending the mountain. The touring ring allows you to choke up on the pole without the need for adjustment, and breakaway grips help keep your wrists safe in the event of a crash. We stand by the Black Diamond Razor Carbon Pro as one of the best touring ski poles available.
G3 Fixie Ski Poles
Not all backcountry skiers desire an adjustable pole, and the G3 Fixie is our favorite non-adjustable model designed for off-piste adventures. It's also an ideal option for out-of-bounds skiers who tend to destroy carbon poles due to aggressive skiing. That's because the G3 Fixie features a sturdy, one-piece aluminum construction. It's one of the toughest backcountry ski poles we've found.
Even more, G3 is a company focused on backcountry gear, so you know you're getting a pole that's designed for this exact purpose. The strap is easy to remove and the grip is formed for touring up steep ascents. Powder and standard baskets provide versatility, so you can count on this pole for in-bounds days too.
Black Diamond Carbon Whippet Ski Poles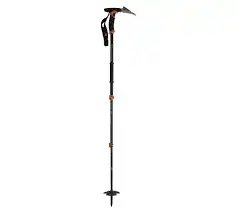 Black Diamond is a brand you'll see countless times when searching for backcountry gear. That's because they're a company that has mastered manufacturing top-quality backcountry equipment. The Black Diamond Carbon Whippet lives up to the company's strong reputation.
The Carbon Whippet is designed for steep and even icy terrain, and it's considered one of the best mountaineering poles available. This pole even features a stainless steel pick on the front of the grip in case you fall and need to self-arrest on slick terrain. This year's update includes a quick-release screw to remove the metal pick if desired. The Black Diamond Carbon Whippet is a high-performance pole designed for expert backcountry skiing enthusiasts, but it doesn't come without a hefty price tag.