Best Ski Poles for Downhill
Downhill ski poles are the most common ski poles you'll find. This is because skiers of all ages and skill levels tackle downhill terrain, which can range from green runs to double black diamonds and beyond. Most importantly, downhill poles need to be lightweight enough for all-day use, yet durable enough to help you plant turns. They should also be flexible enough to withstand the occasional yard sale and other tough falls.
A traditional downhill pole can be fitted by holding the pole upside down just below the basket. A pole that fits correctly will leave your elbow at a 90-degree angle. An angle less than 90 degrees means you may need a shorter pole, while and angle of more than 90 degrees means a longer pole may be best. You may find that you prefer a slightly shorter or longer than pole as you advance your downhill skills.
Below, we've rounded up the best alpine ski poles for 2020-2021.
Goode Super Max Ski Poles
We've stated before that Goode is one of the most trusted names in the ski industry, and the Goode Super Max does not disappoint. This is a surprisingly affordable ski pole that's continuously ranked one of the best ski poles for alpine skiing. We're surprised by the low price point, because this pole features a pure carbon composite shaft alongside a long list of additional features. It's 30-percent lighter than traditional aluminum alloy poles and six times stronger.
The ergonomic grips are extremely comfortable, and Goode has balanced them perfectly to create a superior swing weight. The Inter-Loc hook system allows you to attach and detach the straps when loading or unloading the chairlift with ease. These Goode Super Max Ski Poles are arguably the best downhill ski poles for your dollar.
Grass Sticks Original Bamboo Ski Poles
Now is the time to consider bamboo ski poles if you haven't yet. Incredibly, the full bamboo shafts used on the Grass Sticks original offer a compression strength that's stronger than concrete and tensile strength similar to steel. These poles are remarkably strong and lightweight.
Another great characteristic of the Original Bamboo is that you can feel good using it. These poles are locally made in Steamboat Springs, Colo., with the environment and sustainability at the forefront of design and manufacturing. Even the straps are made from 100-percent recycled polyester. The Grass Sticks Original Bamboo offers the strength and flexibility of a high-performance pole without the harmful impact on the environment.
Leki Stealth S Ski Poles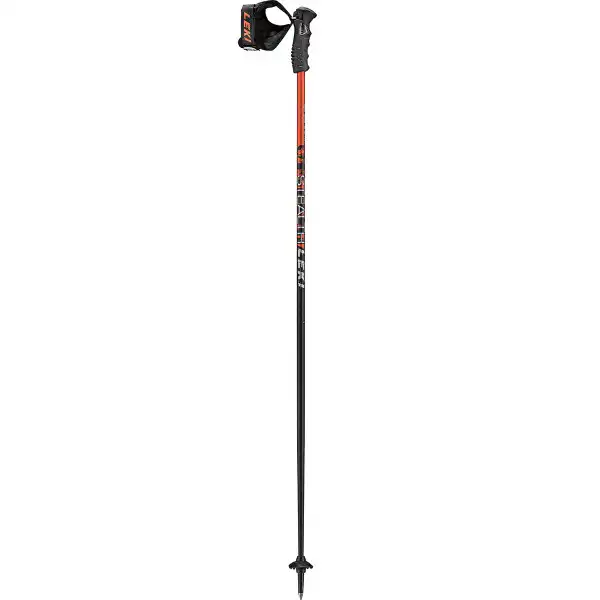 The Leki Stealth S is a high-performance downhill ski pole that looks cool too. It features a strong 16mm aluminum alloy shaft, which is designed for a higher tensile strength than thinner models. Tool-free basket replacement means you can swap the standard downhill basket for a powder basket when a big snowfall hits.
The Stealth S also features Leki's Slim Speed aerodynamic and ergonomic grip, which we find improves turns, stability, and speed (slightly). The blacked-out look with silver accents truly makes this pole look "stealthy," and we have to admit, this adds to its appeal.