Snowboarding with Kids
Snowboarding is an awesome physical activity that utilizes natural elements. Kids and adults from all over love to get together and tear it up at the slopes. Though snowboarding itself is fun and games, you need to have the proper equipment before taking it to the park. It can be an extreme activity with a high risk of falling and potential injury. For some children, this is a preventative factor for snowboarding altogether. Therefore, here is a list for some of the best kids snowboards that promote quality and style.
How to Choose a Snowboard for Your Child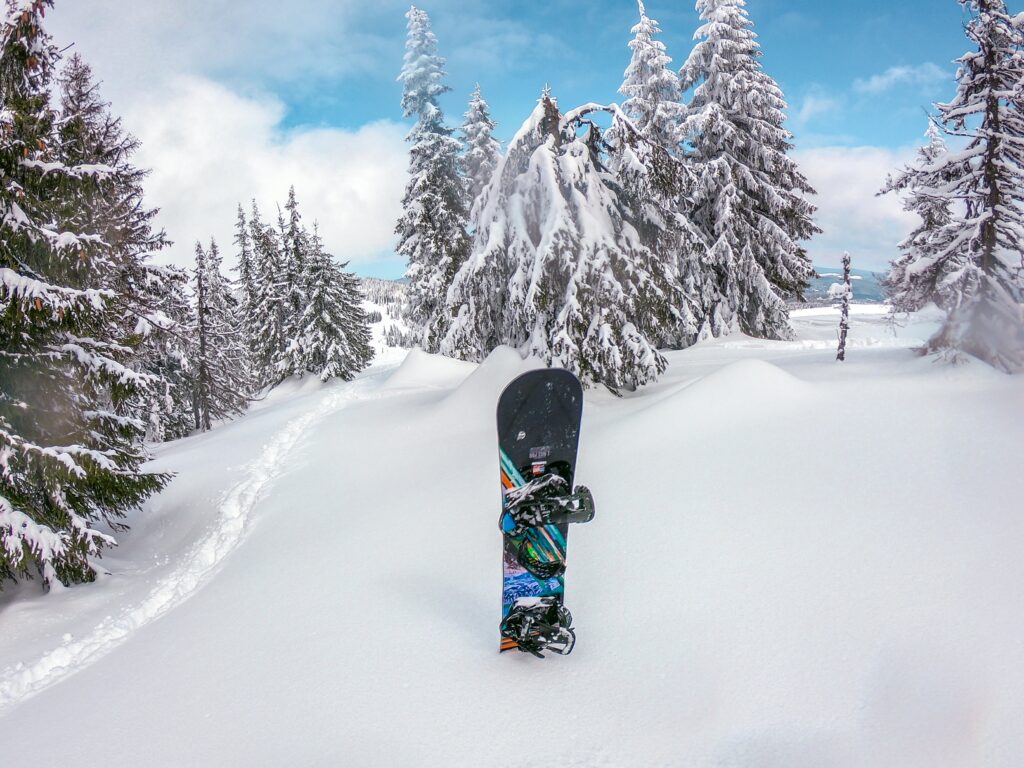 Finding the right snowboards for kids should not be a difficult task. Moreover, let's break down some of the things to consider when looking for the right kid's snowboard. Here is what you need to keep in mind:
Length and width that coincides with the child's height and weight
Child's skill at snowboarding
Where the child is going to ride
Smaller details, such as board materials and flexibility
One of the most important things to consider when searching for a new board for your little one is to find the proper length. A good way to make sure you purchase the right size is to measure the board so that it is between chin and nose height.
You can get a higher snowboard so that your child can go at higher speeds or lower if they mostly board in the snowboarding park. For this, it is essential to keep in mind your children's skill set before making a purchase. Are they a beginner? Do they have years of experience? There is a significant difference between a beginner snowboard and a snowboard for the more advanced.
To find the right snowboard, you also need to take into account the place your child is going to ride. Boards for the park are not created the same as those for other conditions, like a trail or mountain.
If your children prefer to ride solely at the park, then they need a snowboard that can move in all directions. This can help, especially after landing a jump.
If your children prefer to ride solely on a trail or mountain, untouched by any park, then you should consider a directional board, which allows boarders to move forward.
Most riders like to mix up their boarding locations, creating a mix between the park and the trail conditions. Luckily, some kids' snowboards meet in the middle. These boards, called all mountain snowboards, can be used anywhere from the conditioned parks to the untouched landscape of backcountry trails.
The last thing to consider is the material and flexibility of the snowboard. For those who like to board only at the park, go for a more flexible material. A stiffer board is better for boys and girls who like to go at higher speeds. If you and your child are interested in an all mountain snowboard, then you should meet in the middle on flexibility.
Is There an Age Requirement for Snowboarding?
Technically, there is no age requirement to snowboard, nor is there an age limit. Everyone should have access to tearing up the slopes, whether it is at a snow park or on natural terrain. However, no matter the age, be sure to understand the risks of falls, trips, bumps, and collisions. Accidents are preventable, but there is no way to guarantee their expulsion.
Although there technically is no age requirement for snowboarders, most parents start their children out at age five. It is a young age, but probably the earliest at which they can understand. Additionally, snowboard companies start making boards for children, usually at age five. It is hard to find a snowboard for children younger than five.
The Best Snowboards for Boys
Burton is a high-quality snowboard brand that consistently makes products for boarders of all ages. If you take your little one to the slopes, you can be sure to see multiple riders with a Burton of their own.
The Burton Chopper is perfect for beginners because of its super soft flex, meaning that it tends to go slower than those with a stiffer material. This board is made for slope adventures at the park- not the trails, so be sure to check out some of the other boards on this list for better maneuverability on the natural slopes.
However, do not overlook this board for your next trip to the park. The twin shape allows better landings and more stability. Overall, this is the best choice for beginner snowboarders at the park.
The K2 Vandal snowboard is like the Burton Chopper 2 point 0. It is a good kids snowboard, especially for those without much experience. Plus, it has the twin shape and soft flex needed for proper movement and stability when hitting the slopes.
Your kids can use this board mainly for the park, but due to its flexibility, it can be used for low impact trails. Additionally, this snowboard is perfect for those rough beginners who tend to wear out their things pretty quickly. The K2 Vandal's base is easy to repair so that your kids can tear it up.
Capita is another quality snowboard company that makes materials built for performance. This snowboard is one of the best for intermediate and advanced riders. Make sure that, before buying, your child has the right skills needed for a more complex board.
This all mountain board is perfect for freestyle snowboarding, where kids can show off their moves and tricks. The soft flex allows movement while the profile gives off good float and stability.
There are other elements about this snowboard for kids:
FSC Certified
Made from sustainable materials
A durable base that is easy to repair
Overall, this is the board for the more adventurous riders who like to show off their tricks, complete epic turns, and pull off incredible jumps. This is also one of those kid snowboards that can undergo serious wear and tear and still function correctly.
Take it up a notch with Never Summer's Bantam kids snowboard. This is one of the best for boys who need to quench their need for speed. For this, the Bantam is geared for advanced boarders. The twin shape is good for those who enjoy freestyling while the lightweight wood core creates a durable board for legendary movements and jumps.
The Bantam also includes FDS Damping to absorb shock and shatter when hitting those harder jumps. All in all, the shape allows your children to shred through any terrain they may encounter. Make sure, though, that you choose the right size for your snowboarding adventurer.
Next on the list of quality kids snowboards comes from Emsco Group. This board is made for both beginners and experienced riders who weigh up to 95 pounds. Although it markets itself to all riders, this board may be better for the beginners, as the structure has characteristics that limit kids with more riding confidence.
The adjustable bindings are a defining quality of this board, as well as its cool graphics. The solid construction is stable for all beginners who want to learn and durable for the novices to pull off some of their new tricks.
This all mountain style is made for your son to tear it up at the park or the natural terrain. The durable materials allow for the board to last for a while, which saves time and money shopping for new boards for the kids. The flex and grip avoid falls, while the twin shape allows for more movement.
The lightweight core creates a looser and airy feel when tearing up the slopes. This board also makes it easier for the more experienced rider to show off their tricks and jumps. The length and the materials make the rider go faster and pick up serious speed when needed.
Overall, this Burton board keeps things simple for the more advanced snowboarder.
The Best Snowboards for Girls
Burton makes some of the best snowboarding materials, including the most top-quality snowboards. Kids and parents can have full confidence in their boards. The Burton Chicklet is made for the beginner snowboarder but adjusts to your child's skills as they use it more and get better.
As one of the best kids snowboards, the Chicklet is perfect for teaching the basics. It is flat with durable edges that can help prevent falling. Plus, the lightweight wood core structures the board for stability and, eventually, some beginner tricks and jumps.
The K2 Kandi is another good snowboard for beginners. It is perfect for teaching and getting used to the snowboarding basics. The rocker limits the probability of your child falling, preventing the board from catching on any materials or rough patches that naturally form in the snow.
This kids snowboard is also durable and lasts for years, so if your daughter is more of a casual rider, then the K2 Kandi works perfectly. However, if she wants to be more hardcore, then this board may be good for one or two seasons.
Another one of the best kids beginner boards on this list comes from K2 again. This snowboard has a cute design that your daughter can fall in love with and make her more excited to use it. There are multiple size options for this board, so be sure to purchase the size that coincides with your little one.
This board makes it easy to learn the basics of snowboarding. The soft flex and twin shape promote more control and stability. The base can also survive the natural wear and tear that snowboards undergo during the learning process. Plus, this board has a noodle core, unlike the wood core seen in the others. For this, the K2 Lil Kat is easy to maneuver.
This all mountain kids snowboard is fantastic for the little snowboarder who likes to mix it up between the park and the trails. Though this board gears towards more knowledgeable and experienced riders, it does have an excellent build that supports stability and control.
This board also promotes a smooth ride. The core absorbs shock and vibrations, the laminate keeps the board lightweight, and the flat base keeps all slides down the slope steady and easy.
The Burton Feel Good has the quality and style that makes up the best kids snowboards. Your little rider should opt for this board if they have more experience and more confidence. The medium flex guarantees more speed and more intense turns. Also, the wooden core and extra grip ensure that there is more pop when shredding down the hill.
This is one of the better kids snowboards for those who have the experience for more advanced tricks, jumps, and movements. Be sure, though, to buy the proper size for your girl. Otherwise, she may be going too slow or too fast for her liking.
This is one of the ideal kids snowboards for younger and littler children. It is best for kids ages five and up who weight less than 100 pounds. Therefore, it is great for beginners who need easy steer controls and more stability.
There is only one size for this snowboard since it specifically tailors to little kids who make up a certain weight or size. It has adjustable bindings and does not require special boots so that you can save more money. Overall, this board is perfect for younger children who still need help building up their skills.
The Final Word on Kids Snowboards
Snowboarding should be a fun activity for people of all ages. A lot of people buy boards within the adult category and skip the children's section. However, it is vital to buy your boys and girls the proper board that fits with their size, skill, and style.
Other Ski and Snowboard Gear for Kids
If you are looking for more ski or snowboard gear for your kids check out our other articles below covering all the essentials you need for a fun family trip!