Comprehensive Review Of The Unit 1 Soundshield Helmet
Finding a pair of headphones that fit on your helmet is difficult and time-consuming. Buttons may not work while you use gloves, the headphones could fall off easily, and the battery life is usually dismal. Not to mention the damage the headphones experience if they fall into the snow, water, or mud. But what if, instead of headphones that were attached to a helmet, there was a helmet-headphones combo that worked together? This combo product is exactly what Soundshield designed to answer all the audio issues in the winter sports world. In this Unit 1 Helmet review, I will lay out all the benefits and features of the unit 1 sound Shield, its cost, and how the customers who purchased this item feel about it.
What Is The Unit 1 Soundshield Helmet?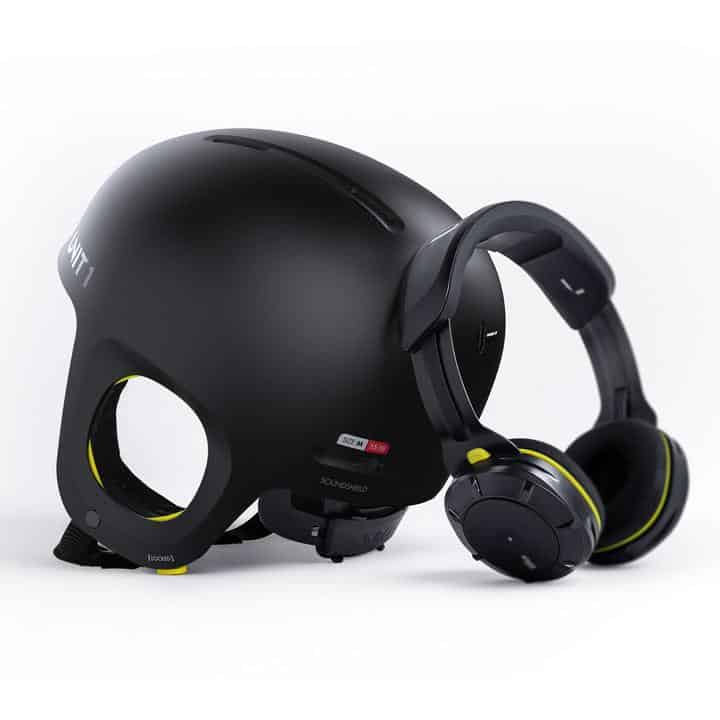 Created as a two-in-one product that Unit 1 Soundshield helmet is a headphone and helmet combo so skiers and snowboarders can listen to music while they are living it up out on the snow. One of the biggest issues with audio headphones for helmets is that many are not compatible, and a skier/snowboarder needs to search for something that sounds good and fits into the audio pocket of their helmet. However, by creating a speaker helmet set together, this is no longer an issue.
The Best Features Of The Soundshield Helmet
Glove compatible
Created specifically for skiers and snowboarders, the wearer can easily use the speakers' controls even while using gloves. The buttons are large, so you don't have to fumble around and search for the button whenever you need to change either the song or the volume.
Sweatproof
Skiing and snowboarding use a lot of energy, and by the end of the day, your clothing and hair are slick with sweat and moisture. Even the skin on your ears and your neck will be soaked. Sweat is one of the biggest reasons why it is hard to find an audio speaker or headphone that will keep functioning after a long day out on the snow. But since the soundshield helmet is sweat proof, the amount of sweat you release will not affect its performance or its wiring.
Built-In Mic
Many headphones and speakers are only one-way devices, so you can only listen to music and audiobooks. But the Soundshield has a mic, which makes it easier to answer calls and send messages. There's no reason to take your phone out of your pocket and fiddle with the touch screen and buttons. You will be able to answer phone calls directly from your headphones.
Removable speakers
Another big issue with audio speakers and headphones is that they only attach to the helmet, so they cannot be used in any other situation. But the speakers in the Soundshield helmet are not only removable, they function as regular over the head headphones. This means when you're done skiing or snowboarding, you can continue to use the headphones to listen to music without wearing the helmet.
16hours of playtime per full charge
Whether you're using them as just a pair of headphones or as the helmet headphones combo, the battery for these headphones lasts longer than the average winter sport headphones. It has over 16 hours of active playtime per charge, so it can last from morning all the way to the moment you fall asleep.
Wireless
No matter what kind of headphones, earbuds, or speakers you use, dealing with wires is the worst. But the headphones in this helmet are wireless and work through Bluetooth 4.2 technology. So, you won't have to get tangled up in wires or reattach wires whenever it is pulled from your smartphone.
Sound Quality
With many winter sports audio devices, you have to sacrifice quality for performance and durability. But if you buy the Unit 1 Soundshield, you don't have to sacrifice anything. The audio quality is crystal clear, as if you are sitting in a noiseless room listening to the musician play directly in front of you. The clarity of the music is extremely crisp, and you'll be able to hear every little chime and dip in your favorite songs.
Collision Protection
Snowboarding and skiing are vigorous winter activities, so audio devices need to be able to take a hit. The durability of the headphones comes from the helmet itself as the helmet is built to withstand collisions with trees, other skiers or snowboarders, and falls to the ground. The helmet is so well-constructed that it is undergoing several different types of certifications to prove its strength against different types of impacts. The headphones can be damaged if they are submerged in water, but if they land in a small puddle of water, they should be just fine. Landing in the snow won't damage the headphones either.
Cost And Warranty Of The Unit 1 Soundshield
Compared to other helmet headphones, the unit 1 Soundshield is more expensive, especially since it is built into a helmet. It costs $249 for a single helmet. It has a 12-month warranty so you can receive a replacement or get a free repair if it is broken or if it doesn't work after a few months.
Conclusion
The Soundshield Helmet Unit 1 was crafted for hardcore skiers, professionals, and dedicated snowboarders who live their lives on the slopes. When you're out in the snow as much as these people are, the sound of birds and other people yelling across the mountain top gets old after a while. No matter what kind of music or audio you like, the Soundshield can deliver supreme quality sound. The owner of the Soundshield helmet will never have to worry about environmental or collision damage because of the way the helmet is constructed. If you're someone who is spending more time on the slope, building techniques, and getting in much more practice time on your skis or snowboard, investing in this helmet is a great idea. It is quite pricey, but it is well worth the extra cost.