Guide To Choosing A Size For Your Telemark Skis
Telemark skiing is slowly but surely coming back into fashion. This special way of skiing was once considered to be part of the Olympic Games in 2018 by the IOC. It is slowly gaining popularity among beginning and intermediate skiers who are eager to discover new ways of skiing. But Telemark skiing cannot be done with regular types of bindings. It must be done with special Telemark bindings, which must be selected at winter sports stores. So if you're interested in Telemark skiing, but you don't know how to choose a pair of skis, continue reading, and I will explain what you need to know in this quick and easy guide on choosing a size for your Telemark skis.
What Is Telemark Skiing?
For those who do not know, Telemark skiing is a blend of Alpine skiing and Nordic skiing. One of the big differences between Telemark skiing and other types of skiing is that the bindings that hold down the heel of the skier's foot are loose, so the skier is free to use and move their heels however they like. Loose heels mean that skiers can glide and travel through miles and miles of backcountry, and they won't have to worry if they must travel uphill or downhill. The flexibility of their unhinged telemark bindings allows them to go where they need to.
Telemark skiing was created in the middle of the 19th century by a Nordic man named Sondre Norheim because he wanted to swiftly carve his way through the country and the rigorous trails set forth by his town's contests. By creating the Telemark ski, he was able to win multiple skiing competitions in his home country of Norway. Many skiers and sports historians consider Norheim to be the father of skiing.
You can read more about Telemark skiing here.
How Long Should Telemark Skis Be?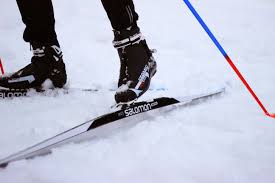 You'll definitely need a different pair of skis to practice Telemark ski, but how do you choose which ski is right for you and what should you know about telemark skis? First, you should know that Telemark skis are extremely lightweight and very flexible compared to alpine skis. Their flexibility makes this type of ski great to use as it provides the skiers with more control and stability than alpine skiing. Here are a few characteristics to consider while choosing telemark skis.
Length
There are two reasons why someone would take up Telemark skiing. The first reason is that they wish to travel cross country, and they need to travel uphill to do so. Because the skier's heel is not bound to the ski, it makes it easier for the skier to step uphill and along flat ground. Usually, cross-country skis are long, longer than the skier's body; however, Telemark skiing is also used to carve through the snow. Shorter skis are made to do stunts and tricks because they're easier to control. Taking these two reasons to account, the best length for telemark skis is a medium-sized ski.
Many guides that provide measurements for different skiing methods commonly say that the length of Telemark skis should be somewhere between the skiers' eyes and nose. However, if you're already quite experienced and you're moving from Alpine skiing to Telemark skiing, then your skis can be longer for increased speed and stability. As an advanced skier, you should already have a good grasp on speed and control.
Other Characteristics Of Telemark Skis
Width
Along with the medium height, Telemark skis should also have a medium width. But if the width of your feet covers most of the ski, you will need to choose Telemark ski that is wider. Depending on the type of powder and terrain you're traveling through, you can choose between a wide ski or a thin ski. If there is lots of fresh powder on the ground, choose a wide ski width but for flat snow, then choose a thin ski.
Bindings
Perhaps the biggest change from switching to Telemark skis when you're used to Alpine skiing is the loose heel bindings. The extra movement from the unbound heel will take some getting used to. If you would like to try out Telemark skiing to see if you would like it, don't think too hard about your binding. Select an Alpine skiing binding that allows the skier to loosen their foot and raise their heel.
One way to know if you purchased the correct Telemark skis for your size is that it is very easy for you to turn, and you don't struggle with drag or the force of your turn. Telemark skiers who purchased the wrong ski for their size always say that turning is extremely difficult.
Tip: If you are completely confused about which type of ski to purchase, just select the type of ski you use to Alpine Ski and then choose a more flexible version. There isn't much difference between alpine skis and Telemark skis, but more flexibility is important in telemark skiing.
Note: Telemark skiing is not a beginner-friendly type of skiing. It takes a strong amount of coordination and balance to use Telemark skis, so not many beginners or even intermediate are willing to add Telemark Skiing to the list of techniques and skills that they must do. But there are beginner and intermediate-style skis if a less advanced person is interested. It will just take much longer to advance because of the high degree of coordination and balance involved.
Conclusion
Hopefully, this guide helped you understand and figure out the length of the skis you need. Also, google "Telemark ski size guide" to get even more advice. Telemark ski length is tricky, depending on the type of snow you're traveling through or if you are skiing cross-country or performing tricks. If you like to go out into the wilderness and find new areas that are untouched by other skiers and snowboarders and you want to use it to catch some serious air, Then Telemark skiing might just be for you.