How to Ski Moguls- Top Tips to Become a Better Mogul Skier
How to Ski Moguls
If you have ever wondered "what are ski bumps called," you should know about the joys associated with skiing moguls' ski bumps. Those ski bumps you were wondering about are none other than moguls, sometimes artificially made, yet most of the time, it is the result of skiers going down the same path, pushing the snow back as they turn. As the snow gets pushed back, it forms little bumps known as moguls. Over time, these bumps became crucial to the development of mogul skiing, which is a Winter Olympic sport with a good following of fans looking for mogul ski tips to improve their own experiences. These top tips for skiing moguls are sure to help you get better!
Tips For Skiing Moguls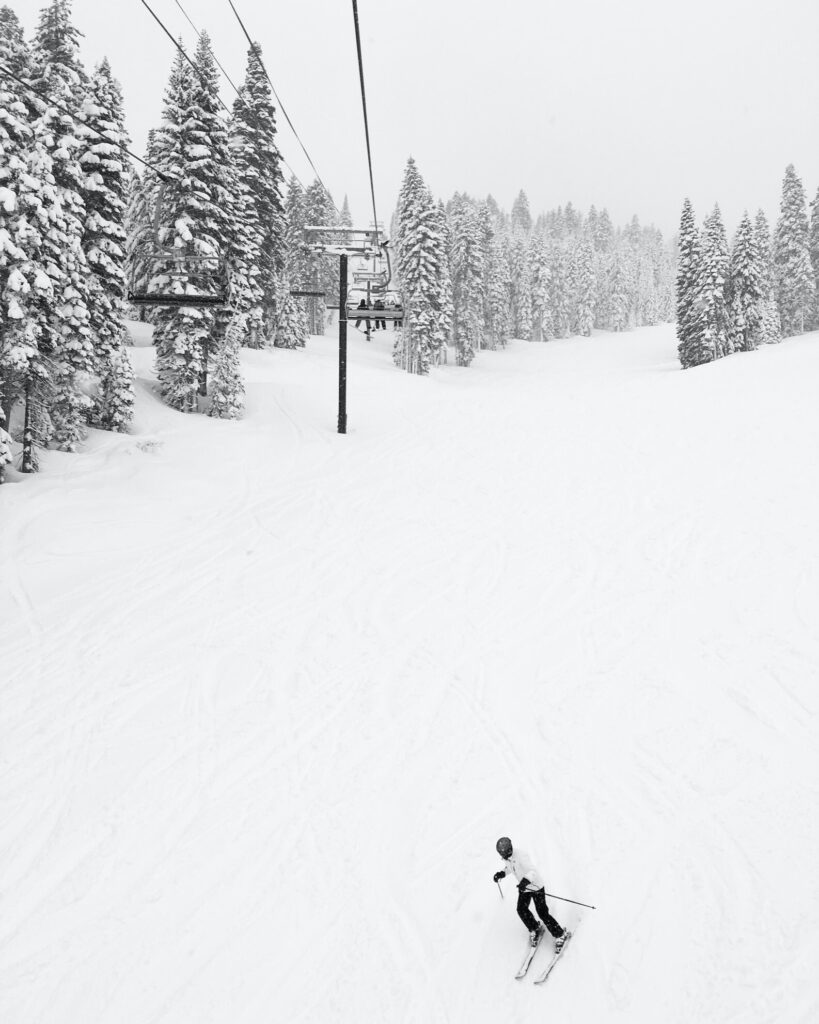 Whether you're a novice new to the sport or a veteran looking to hone their craft, you can always apply new ideas to better your mogul skiing. Mogul skiing tips vary from person to person, so it's essential to start with some elementary advice to help newcomers get into mogul skiing. Trying to navigate through moguls in skiing may seem steep at first, but it's a bump in the road you can overcome with enough patience and determination!
Get The Right Ski
Believe it or not, the type of ski you use can significantly affect your performance going from bump to bump. Shorter skis turn easier than longer skis on a mogul field, and making a turn is crucial to your success as you ski mogul. If you have the right technique, you can still get by with other skis, but as this is a tip for those who are not at the top of the game, this assumes you don't have the proper technique just yet. Some skis are designed with moguls in mind, so browse around for the one that appeals to you.
Ski The Blue Line
Suppose you're looking for a way to control yourself while skiing, the Blue Line is a technique designed to help you get over any bumps of fall line that could throw you off your game. Should you want to know how to mogul ski through the Blue Line technique, then these tips should help steer you in the right direction. As the fall line is downwards, control is paramount to getting by safely and efficiently. To use the Blue Line, you must start with visualization.
Visualize the Blue Line like a curve above the trough, somewhat similar to race track curves you could see in NASCAR or Mario Kart. Once you visualize it, approach it slowly as you intend to turn. Do a turn on a flat top of the mogul by drifting your skis through the top of the mogul and then doing the same with the bottom of the fall line. The fall line should be adjacent to the mogul you initiated your turn on. You repeat the process until you go through the curve.
Quick reminders about the Blue Line technique:
Arrive slowly for maximum control for the later turn.
Expect to ski through a wide radius for minimal time in the fall line.
Predictably, practicing this method over and over again greatly improves your overall skill in it.
Ski The Green Line
Perhaps you may be wondering "how to ski bumps" in a more natural manner. The Green Line technique does not require fast reflexes and is very easy to follow through. Instead of visualizing it like a turn on a race track, see it as almost a straight line. It would help if you still stayed above the trough, so start by arriving at the flat top slowly as you do in the Blue Line method, but initiate the turn by steering the skis perpendicular to the fall line. The turn radius should be noticeably smaller than the through you're going through, as the way through is quicker to execute.
Reminders on how to do the Green Line:
Arrive slowly for maximum control for the later turn.
Expect to ski through a small radius through the trough.
Remember to cross your skis perpendicularly when going through the spine of the moguls.
Repeat the sequence of turns as needed.
You can also visualize the Green Line method like going up and down some stairs instead of the Blue Line method being more similar to a curved racetrack. Typically, newcomers start with the Green Line and move onto the Blue Line when they become more experienced in skiing moguls. The turns with the Green Line method are noticeably more comfortable to execute than the turns of the Blue Line method, so keep that in mind.
General Advice
If there's one word monumental to one's ability to ski moguls, then it's balance. Without balance, skiing, in general, can be challenging and not much fun. One way to make your skiing more enjoyable is by improving your balance. As you make your way through the mogul field, remember to keep your hands in front of you as this is the optimal position for skiing. Remember that you're often going down a slope while skiing, so you have to try to go with the flow of both inertia and gravity being applied. As you ski moguls, remember to make turns on the top of the bumps.
Always be ready to move your legs around. The poles are useful for guiding you along the path, but your legs play a vital role in movement. Next, you must remember to coordinate the flow of your poles and legs together. With proper coordination, you can zoom on by any bump or two without the risks of injuries.
Of course, you should always keep your eyes ahead of the moguls to see any bump you might need to get over in the next few moments. Whether you apply the Green Line or Blue Line to your skiing, you must always look at what is to come as opposed to what you're doing in the present. If you don't pay attention to what is to come, you may hit a bump you could've foreseen and be thrown off course.
Bumps
Skiing moguls is all about adapting to the bumps ahead of you. Next thing you know, you're approaching a large bump you don't have experience in navigating around. Don't fear this, instead make this an opportunity and adapt to the situation. As you go through back-to-back bumps, you can enjoy the thrill that is mogul skiing! As you twist and turn through the mogul field, no bump should be able to impede your progress!
Timing
Predictably, your timing plays a crucial role in how well you can go through a mogul. Any turn you perform should be timed in a way that won't involve the tail of your skis hitting the bumps clumsily. Next time you make a turn, remember that rhythm plays a critical part in how you ski. As you practice your timing, you should get used to the course you've practiced on. If you really want to challenge yourself, try to complete the course faster than your best time.
Other Beginner-Friendly Tricks
Do you ever feel that you have difficulty maintaining your balance as you go through a mogul field? When you're going downhill to smaller bumps, lean your feet to a forward lean for a centered stance. Adapt to the speed you're going at, and tilt backward if you must (however, don't make it a bad habit). Another way to get better at skiing a mogul is through watching videos of professional skiers going through the bumps. Watch how they turn, and when they turn. Some people are visual learners and learn best when watching somebody else do it, so if you like to ski and wish to get better at it, do consider watching videos.
Remember that the balance you have going up a mogul is going to be different from your balance going down it. A mogul field can have various sizes of bumps here and there, so each individual bump is going to take a slightly different approach to overcome it. Sometimes you have to adjust your turn accordingly! If you can, taking a video of your ski trip to watch later can help you notice any mistakes you might've been making. When you watch it back, you could see if you did a turn at the wrong time, if your balance was backward-oriented, etc.
Final Advice
Skiing moguls is a whole lot of fun when you do it correctly! If you're a veteran of the sport and wish to get better, then always pace yourself. Try to get better times and attempt harder courses if you can. If you don't already have a ski designed with a mogul in mind, then try to get one as soon as possible. Even newcomers can enjoy it, just remember to practice the advice as mentioned earlier in this guide. Practice makes perfect, so even if you fail a few times, don't fret! There's always a way to be at the top of your game! Treat the mogul field not as an obstacle, but as a challenge; you can overcome it for fun!