The Absolute Best Telescopic Ski Poles
Telescopic ski poles are an absolute must for alpine touring or splitboarding. Avid backcountry skiers swear by adjustable poles, as the length can be altered for superior comfort when climbing or zig zagging up a steep incline.
Uneven pole lengths allow you to keep your shoulder height equal when ascending steep inclines in deep snow. This helps you maintain your balance and prevents fatigue by reducing the strain on the uphill shoulder. The added traction when using telescopic ski poles properly can prevent serious accidents and injuries.
Adjustable ski poles offer a number of additional advantages. They fit nearly every size adult skier and can be made longer when hitting patches of deep powder. A shorter pole on the uphill and a longer pole on the downhill can greatly improve your backcountry experience. Below, you'll find the best adjustable ski poles for tearing up off-piste terrain.
Leki TourStick Vario Carbon V Ski Poles
There's arguably no telescopic pole more technical than the Leki TourStick Vario Carbon V. This pole pulls from Leki's popular trekking and downhill designs, creating an excellent piece of backcountry ski equipment. The TourStick Vario Carbon V offers a multi-section design that allows it to pack down to just 16.5 inches. This makes it easy to carry in your pack through the backcountry or when traveling.
The TourStick Vario Carbon V features Leki's Trigger S strap system, which allows you to easily separate the strap from the pole when entering or exiting the gondola or lift. It's a compact, lightweight pole that's designed for powder days.
Black Diamond Expedition 3 Pro Ski Poles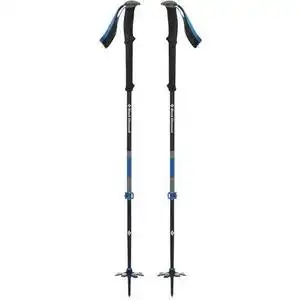 The Black Diamond Expedition has been a favorite backcountry pole for years. The Expedition 2 Pro is even better in our opinion. The pole features a two-section design that allows it to collapse easily and into a relatively small size (37.4 inches), so it can be attached to the outside of your pack when not in use.
This Black Diamond model also features a hooked tip on the ergonomically-designed foam grip. This tip makes it easier to adjust the heel risers of your bindings, even while on a steep slope or in deep snow. We also like that this pole can also be used for trekking during the off-season, making it an ideal option for four-season outdoor enthusiasts.
Black Diamond Razor Carbon Pro Ski Poles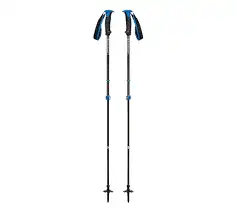 Black Diamond is a leading name is backcountry ski equipment, so it's no surprise two Black Diamond poles made our list. This Razor Carbon Pro model features Black Diamond's esteemed FlickLock Pro system. It's also one of the most durable telescopic poles on the market, with the upper shaft made of aluminum and the lower section of lightweight carbon fiber.
SwitchRelease technology makes this pole safe for the backcountry, as the wrist strap will release if the pole gets hung up on a tree or other obstacle. The Razor Carbon Pro is a lightweight, durable, and affordable backcountry option, making it one of the best collapsible ski poles on the market.