The Best Goggles for Night Skiing, Low Light, or Flat Light
Every skier and snowboarder needs to have a high-quality pair of goggles in their equipment bag. Although they will develop a noticeable tan line on their face as they spend hours out on the slopes, wearing goggles is an absolute necessity. Goggles protect a person's eyes from flying debris. They are tempered with UV protection, so the sun does not damage their eyes with ultraviolet rays and prevent snowblindness. Plus, finding the perfect pair of goggles can complete any snow outfit, so a fashion-minded skier can look stylish while out on the slopes.
But, there is no pair of goggles that are no one-size-fits-all. Goggles designed for winter sports have a variety of features to choose from, and they're made for different environments. Purchasing the wrong type of goggles for low light or flat light conditions means that you end up wasting your money or waste even more time by returning your goggles, and searching for a better pair. Or, worst of all, you could injure yourself and be unable to ski for several months because you couldn't see the dangers ahead of you on the slopes.
But you don't have to spend hours figuring out which type of goggle is right for you, because we have researched the best goggles for each kind of lighting. In the guide, you will learn about three lighting types a skier will experience and the best goggles for each one.
Goggle VLT
One concept we should discuss before heading onto the best goggles guide is goggle VLT. If you are not familiar with the term 'VLT,' it is the amount of light that goes through the goggle's lenses and is absorbed by your eyes. VLT stands for Visible Light Transmission. Depending on the amount of sun in the sky or if it is cloudy or you're skiing at night, different goggles have different levels of VLT. If a pair of goggles has a high VLT, then it is designed for low sunlight or nighttime skiing, but if it has a low VLT, it is designed for clear weather and days with a lot of sunlight or high noon.
Goggles for Low Light
Low light occurs in the early morning hours before and during the dawn. It also occurs in the middle of the evening, just as the sun is setting. This type of light has many shadows on the ground, and the sunlight usually comes in from one direction. Fog and heavy snowfall are also categorized as low light conditions.
Features to look for
The VLT percentage for goggles design for low light can be anywhere from 10% to 50%. The best colors for low-light goggles are copper and dark rose and lenses with a dark tint. Also, look for goggles that have a high standard when it comes to durability. Wind, rain, and snow are likely to create low light conditions, so you don't want goggles that will snap or develop breaks if the wind is too strong or the snow is sharp and pricking the lenses.
Best Low Light Ski Goggles
Built for both ingenuity and style, the Smith Squad Chromapop goggles have a filter for proper ventilation and can be worn over your prescription glasses. These goggles also offer interchangeable lenses and three layers of foam to regulate the goggles' temperature to prevent fogging from the inside. These goggles may be expensive, but Chromapop is known for developing specialized technology and applying it in their goggles.
These goggles are not expensive at all, but that doesn't mean they're cheap! The Outdoormaster goggles can sit over your prescription glasses, and your field of vision is wider as the lenses extend to the sides of your face. The VLT is only 10%, but the gray frames can easily be switched out for another color with a higher VLT. Extra lenses are available for purchase separately, and the OutdoorMaster has a customer service email system. Plus, the company also answers questions on Amazon.
Goggles for Flat Light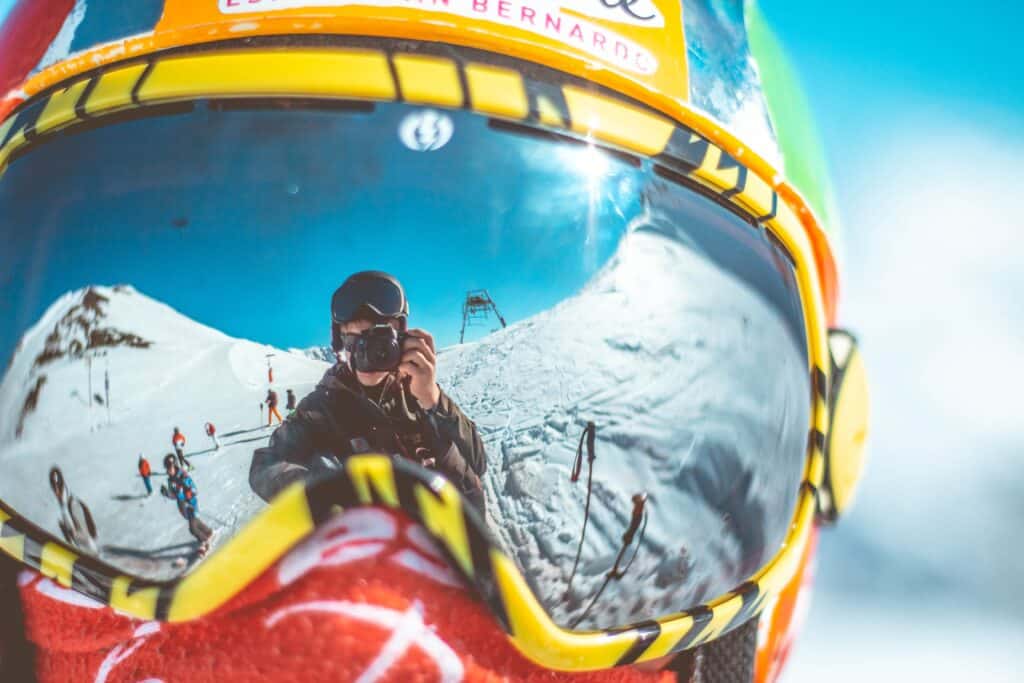 First of all, what is flat light? Flat light happens when there isn't much sunlight coming through the heavy layer of clouds above. Because of the heavy overcast, it is harder to see the level of snow around you, the dips, hills, and the different ways the ground changes. If someone skis during flat light conditions without the correct type of goggles, the ground will look like one solid pathway. They most likely end up injuring themselves because they cannot see the dangers ahead of them.
Features to look for
When choosing flat light goggles, the first feature you should look for is a lightly-colored lens. Since there is less sunlight, a dark color lens will obscure your vision even more and make it hard to see the different bumps and dips in the ground. A lightly-colored lens helps your eyes pull in more light, so the ground is not as ambiguous and dangerous.
When choosing lens colors for a flat light goggle, the most common colors are yellow, light pink or rose, light red, or vivid yellow-green color.
Best Flat Light Ski Goggles
This flat light ski goggle has a VLT of 30 to 40%, and you can even change out the goggle's lens to a different color if you find that your vision is worse when using different colors. This goggle has vents as well as an anti-fog coating to prevent fogging from both inside and outside the goggles.
The Zionor is definitely one of the most trusted brands of goggles for skiers and snowboarders. With over 3,700 reviews on Amazon, the Lagopuss ski goggles are so comfortable that they can be worn all day without discomfort. The foam around the goggle prevents wind from stinging the wearer's eyes, and the goggles never fog. Within the lenses, there is 100% UV protection, and the VLT for these goggles is anywhere from 40% to 60%. But flat light and no light options are also available, and this goggle even comes in child and teen sizes.
Goggles for Night Skiing
Skiing doesn't come to an end just because the sun goes down, so owning ski goggles that are built for nighttime activities can extend your skiing deep into the night. The brightness of a full moon will definitely help with visibility, but you shouldn't try to use low light goggles during the night. The tint could impair your vision.
Features to look for
Goggles built for night skiing should have absolutely no color on the lens. Since the night is obviously colder than the daytime, along with anti-fogging lenses, your skiing goggles should also be equipped with a small fan to remove any extra fog within the goggles. The VLT for night goggles is usually 90% and higher.
The Best Goggles for Night Skiing
With a 99% VLT, there's nothing you won't be able to see when skiing down the slopes at night. The lens is completely clear, but it also provides UV protection. If you purchase these goggles on Amazon, you'll be surprised to learn that they are only $22. So they're affordable for the skier who's on a budget. These goggles are also built with a two-way vent, so fogging does not occur.
Quick tip: No matter what you purchase, make sure your new pair of goggles is made from effective anti-fogging material. When your warm breath comes out of your mouth and travels up into the air, it can affect the goggles' cold plastic lens by fogging up the lens and impairing your vision. Always test your goggles in the cold winter air before you officially use them for skiing or snowboarding.
Quick Tip #2: if you need to rent goggles from the lodge or hotel you are staying at, always test the goggles in the light before you officially reserve them. Many hotels, resorts, and lodges will allow their patrons to test out their equipment since the place already has your credit card on file. And always wipe down any equipment that you rent before and after using it.
Conclusion
When a skier selects the perfect pair of goggles for the lights conditions they're about to ski in, they can see better, navigate their surroundings confidently, and also warn beginning or unknowledgeable skiers who don't have the right gear. If you're having some difficulty with the type of light you are currently skiing in, don't be shy. Ask around and consult people who work on the slopes and any ski instructors in the area. If you plan to be on the slopes all day, take multiple pairs of goggles with you. If you wear glasses, always wear your glasses underneath your goggles, so you don't have to struggle to see. And whatever you do, if officials say that skiing is too dangerous, take their advice and stay indoors. You will be disappointed, but nothing will cheer you up faster than warming yourself up by the heater or fireplace with a mug of hot cocoa.