The Best Ski Boots for Wide Calfs
Ski Boots for Wide Calfs
Skiing is an intense sport, so you need to make sure that all of your clothing and gear fits you well and they are comfortable. Your clothes need to move with you and not ride up or down your body every time you make a sudden movement. These rules also apply to your boots. You'll be standing for hours and hours while you ski up and down mountainsides and slopes. So your boots need to feel comfortable. But as you progress and improve your strength and stamina, you may find that your calves are now thicker, and your boots feel tight and uncomfortable. It's now time to replace your old ski boots for new boots made for wide calves. Here's a quick and easy guide on selecting the right boot so you can get back on those slopes in no time!
Features to Look Out For
You can buy wide calf ski boots online, but to purchase the right boot that fits comfortably, I recommend that you go to an actual store. Don't be afraid to ask the staff about recommendations. Many people who work in winter equipment stores have a lot of knowledge and are happy to help.
Price Limit: When selecting skiing boots, the first thing you should know before you even walk into a store is the amount of money you're willing to spend. Ski boots can range anywhere from $100 to $2,500. By setting a price limit, you won't waste time on boots that are out of your budget.
A removable liner inside: You are going to sweat while skiing and hiking, and washing your entire boot every time you are finished skiing for the day is quite a struggle. Removable liners make it easy to clean the part of the boot that touches your skin and absorbs your sweat. Plus, liners also add an extra layer of insulation so your feet can stay warm.
Support or flexibility: A well-made, supportive boot does not fold when you turn into curves. Boots that have proper support for your level of experience can completely change the way your body navigates the snow. Just like skis, a beginner should not use the most supportive or inflexible boot. They do not have the muscles to force the boots to bend or steer. A beginning skier should only use a pair of boots that have a flex rating below 80. As a novice gains experience and improves their muscles, they can wear boots with a higher flex rating.
A hybrid walking skiing design: Unless you have a pair of boots built to walk and ski with, you cannot walk with ski boots. If you plan on hiking to different areas to ski or ski regularly around town, then walking/skiing hybrid boots would make your trips much easier.
Some stores may even have a tailoring service for their clothes and the material part of your boots. So if you find a pair of boots that you like, but they are too big, you can have them taken in to achieve a perfect fit.
Best Ski Boots for Wide Calves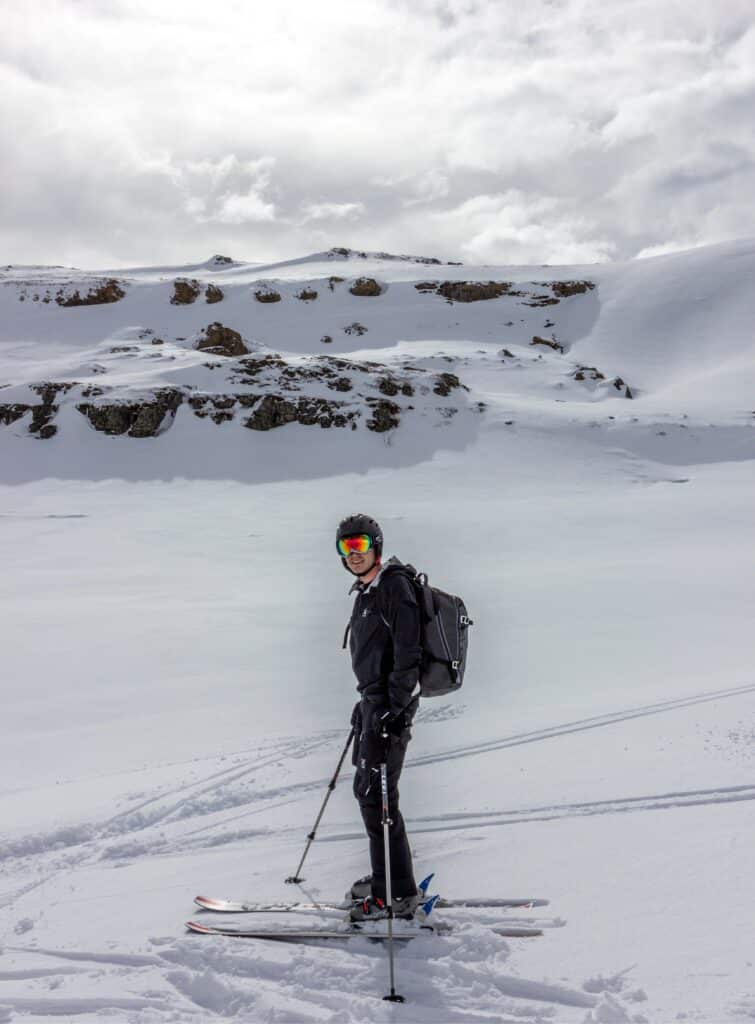 Women's Ski Boots
Part of the Mountain Sport line by Apex ski boot system, the All-Mountain ski boots are made for intermediate and advanced skiers in mind. It has an external frame with customizable flexing, and skiers can use this boot to walk both indoors and outdoors.
Because of Apex's measuring formula, you can buy these boots online and know that they'll fit the first time you put them on.
If you were to combine foam insulation, double grip handles to slide the boots on easier and a cuff that adjusts to the size of your calf and place them all together in a single boot; you would have the Nordica Sportmachine. Top it off with a stylish contrasting color scheme, and you have one of the best boots for beginners and intermediate skiers on the market.
Men's Ski Boots
Designed for wide calves, the Atomic Magma boots are aluminum reinforced skiing boots that have a memory foam liner and two handles grips so skiers can easily slide them on. The velcro strap is more than 50 mm thick. Built to handle tough terrain and bumpy slopes, its durability and resistance to damage and scratches means you'll have the Atomic Hawx around for a long time.
The only feature this boot doesn't have is made construction for wide feet. It was only made for wide calves in mind. So a person who has both should look for a different boot.
How to Evaluate your Ski Boot
Here are a few questions you need to ask yourself when trying on a new pair of ski boots. First, since your calves are wide, does the ski boot tighten around the thickest part of your calf? Can you still bend your legs and squat down easily? When you tighten your calf muscle, do you feel the material of the boot tighten as well?
Be sure to check the structure of the boot for how flexible it is. Good quality boots should have some resistance but not be so stiff that you can barely move your ankles. Or the flex rating could be too high for your experience. Also, if your boots bend easily, do not buy them. A reliable pair of boots has the right combination of flex and structure.
Conclusion
A well-fitting pair of boots can keep you on the slopes for hours and help you turn and twist while speeding up and down the trails. Your muscles grow bigger as you consistently ski. One muscle that develops quickly is the calf muscle. When you feel that your boot is tight around your calf, it is time to buy a new pair of boots or consider stretching your boots at home.
If you like hiking and skiing, you can buy a walking skiing hybrid boot, so you don't have to bring two pairs of boots with you at all times. Some skiing and snowboarding stores have tailors so you can have an item taken in, so it fits you better. When you purchase a new pair of wide calf boots, make sure they have the right amount of both support and structure for your experience level.
Looking for our master list of the best ski boots for men and women this year? Click here. Or if you are looking for the best ski boots for wide feet, click here.