The Best Ski Helmets with Visors
It is safe to say that ski equipment technology has dramatically advanced since the first skiers hit the slopes. There are thousands of style, color, and safety feature combinations that make up one protective helmet. Therefore, rest assured that you can find the right helmet for the next skiing adventure.
How to Find the Right Ski Helmet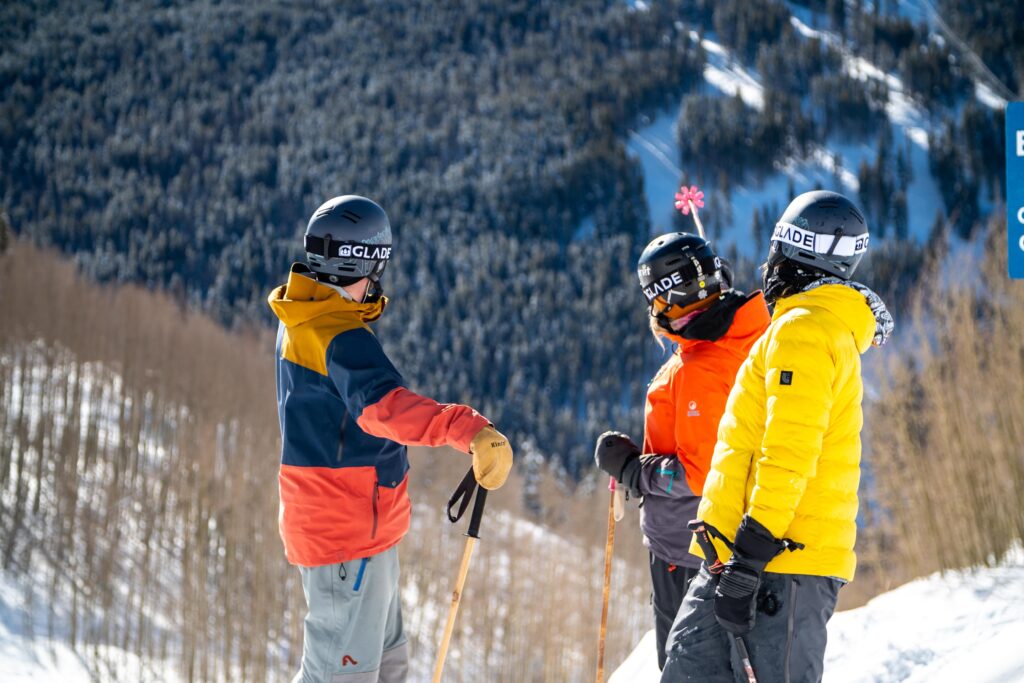 As you must know, wearing a helmet while skiing is the most fundamental rule before traversing down the hill. Wearing one is the best way to prevent concussions or any severe head injuries. While helmets do not block all head injuries, they are the best step in doing so. That is why it is crucial to find a helmet that fits properly and contains all the accessories you need for your next trip.
Find the Best Size
Wearing a helmet is one thing, but wearing one that does not fit is not going to do any favors for your safety. When looking for a helmet, always make sure that it fits properly.
A good helmet should feel snug. It should not feel tight; otherwise, it can cause headaches, and those can ruin a trip to the slopes. When sizing a helmet, shake your head from side to side. If it shifts too much when moving, then it is too loose. Try a size smaller size. Overall, it should feel comfortably snug.
Also, be sure to check the chinstrap and buckle. It needs to fit around the chin without impairing your ability to chew or breath. A strap that is too tight discredits all other safety abilities of the helmet. Find one that fits just right. Additionally, always be sure to adjust the strap before shredding up the slopes.
Make Sure to Adjust for Goggles and Hairstyles
When sizing a new helmet, you should also consider the goggles you wear when skiing. There should be no space between the top of your goggles and the helmet. The goggles should fit so that nothing negatively affects your vision. To avoid the inconvenience of fitting your goggles, you can always buy a ski helmet with visor.
Another consideration for your helmet is the hairstyle. When trying on different helmets or sizing them, you should wear your hair as you would on the slopes.
Consider the Accessories
There are several safety accessories on ski helmets that you may want to look into. These can strengthen confidence in your helmet so that you have more confidence in the park. Some accessories include:
Ventilation System
Some protective skiing equipment features an excellent ventilation system that brings in the cool air and releases the hot air from your body heat. The helmets with this accessory are those that have buttons that control the airflow level. With this, you do not even have to interrupt your skiing session.
Camera Mount
Some protective headwear has the unique feature of a camera mount so that you can record your trip down the hill. Helmet-mounted cameras are a thing, but those with camera mounts can make the experience better.
Visor Helmets
A lot of experienced skiers like a ski helmet with a visor. It prevents the need for ski goggles, saving time and money when shopping for ski equipment. Different features go along with visor ski helmets. You can purchase ones with a photochromic lens or with anti-fog technology. Ultimately, a visor helmet is very convenient.
Others
Of course, there are other accessories included in ski elements. Before you buy, be sure to consider all the accessories featured in a helmet.
When to Buy a New Ski Helmet
To ensure that you have the most protective helmet, you should take care of it and purchase a new one when the time comes. Your ski helmet can survive more than one minor collision. However, if there is a very serious force of impact, then you should replace it. Always check for cracks and missing parts, like padding and lining. If your ski helmet has any missing parts or appears to have visible damage, then it is time to look for a new one.
Where to Buy the Best Ski Helmets
You can shop for a new helmet for ski online or in outdoor adventure stores. You can also look in major sports apparel stores. When it comes to skiing brands, there are some notable names. By reading this list of the best ski helmets with visors, you can be sure to identify some of the leading brands in the ski industry.
Top Ski Helmets with Visors
Today, more and more skiers opt for a helmet with a visor. It is more convenient and can be a bit cheaper than buying a helmet and goggles separately. Therefore, without farther ado, here are some of the best ski helmets with visors:
Bolle Backline has some of the highest quality equipment for skiing, so, when you go shopping, the chances are that you stumble across a Backline. The Visor Outdoor Skiing Helmet includes:
Hypoallergenic lining pads
Removable ear pads
Ventilation system
Two interchangeable visors
180-degree view with visor
Anti-fog
Compatible with glasses
This one has many desirable features that keep all skiers comfortable while out on the slopes. This helmet fits nice and snug, keeping you safe and secure. Plus, the visor is not invasive and can be adjusted.
This helmet is known for its impressive visors, as it comes with two interchangeable visors so that you can adapt to your surrounding's lighting and weather. Snow on the ground makes the environment appear a lot brighter. You can switch between the two lenses for better visibility.
As one of the best helmets with visors, the Cebe Element includes:
Great ventilation system
Comfortable linings
Removable ear pads
Anti-fog coated visor lenses
Lightweight feel
This visor ski helmet has an overall comfortable feel. If you want a solid piece for skiing, then this is the one for you. The visor lenses adapt well to different environments, giving your perfect visibility. Additionally, the secure structure and tuning system keeps your head safe and sound.
This versatile safety piece is lightweight and sturdy, so you get ultimate protection. Here are just some of the fantastic features included in this certified visor helmet:
Multi-functional for skiing and snowboarding
Anti-fog visor with UV protection
Strong impact resistance due to reinforced ABS construction
Though it does not have interchangeable lenses, nor does it fit well on glasses-wearers, the Nenki does make a solid appearance on this list for the best ski helmets with visors.
The SINNER Titan Visor is one of the best for its level of comfort and for its visor's ability to transition smoothly with light exposure. If you want a relaxed and snug headwear accessory, then this is the one for you. Here are some of the standout features:
Lightweight
Protective padding and a fleece-lined layer
Removable plugs to control airflow and visor fog
The SINNER is designed for comfort. However, it is not constructed for significant impact. While it gives the protection of any other helmet, ski with the SINNER, and you should avoid riskier moves.
Overall, though, the SINNER is perfect for the casual skier looking for the appropriate protection.
If you want to look and feel comfortable, then the EnzoDate 2-In-1 may be the way to go for you. It combines safety and comfort to create one protective piece of equipment. If you want protection and warmth built into your helmets, ski with this one.
It also features:
Protective padding and a velvet-lined layer
Adjustable lens angles
Removable visors
Anti-fog
Combining the elements of warmth, comfort, and protection, the EnzoDate 2-In-1 is versatile for skiers of all skill sets.
The last one featured on this list is the Uvex Hlmet 500, which is a solid contender for your consideration. It has all the components needed for quality protection and comfort when hitting the snow-covered slopes. These components are:
Shock-resisting outer shell
Shock-absorbing inside due to its EPS constructed interior
A lens that presents wide angles and contains anti-fog technology
Easy adjustment so that you can find the right fit
Comfortable airflow
The Uvex Hlmt offers excellent features for your next skiing trip. Hit the slopes safely and in style with this one.
The Final Word
All skiers must have the proper equipment when skiing. This includes helmets as well as googles. Shopping for these pieces easily gets expensive and confusing. Therefore, combine the two by looking into visors. Many skiers enjoy the comfort and convenience of having visors built-in. While it is not a necessary element to go skiing safely, these specific forms of protective equipment can make your skiing experience much safer and more enjoyable.
With that in mind, be safe when shredding it up and always wear the proper protective equipment. Hit the slopes in style with one of the featured pieces on this list.
Other gear reviews
Didn't find what you were looking for here or maybe just looking for more gear? Check out some of our other gear reviews below: