The Best Ski Poles for Cross Country
Cross country skiing is one of the best ways to take advantage of the outdoors in the snowy winter months. Gliding along the snow on cross country skis can be peaceful and relaxing or a full-on adrenaline rush. This is a sport that is what you make it, and a few pieces of equipment are essential to ensuring you enjoy yourself out on the trails. A quality set of cross country poles will help you maintain your balance and control your skis while helping you skate and providing support.
The sizing of your cross country ski poles is also important. The poles should stand up to shoulder height for standard cross-country skiing use. The cross country skiing experts at Salomon state that you can also find your desired pole size by multiplying your height in centimeters by 0.83.
There's simply no denying that poles are a critical part of the sport, and that's why we've put together a list of the best cross country ski poles and best skate ski poles for you.
Fischer BCX Variolite Ski Poles
Most cross country skiers want poles that are ready for all levels of adventure. The Fischer BCX Variolite ski pole is a lightweight yet durable aluminum pole with a flexible "Flex Lite" basket that can adapt to any type of terrain.
One of the features we love most about this BCX Variolite model is that the pole length can be adjusted easily with one hand movement. Adjustable poles can be especially useful when navigating deep powder or climbing steep ascents. Fischer's unique Multi-Grip also allows you to hold the pole in multiple different positions comfortably. Adventurous cross country skiers will love the versatility of this model.
Barnett XC-09 Carbon Ski Poles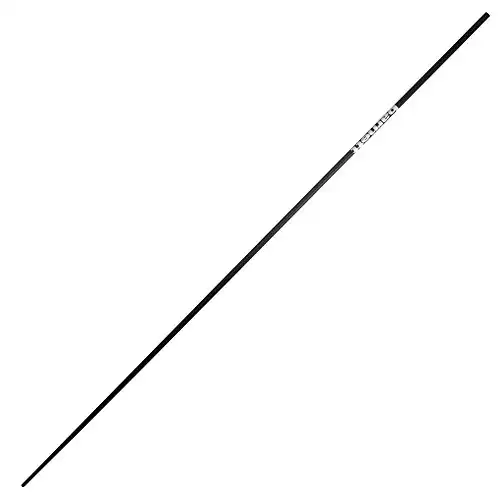 One of the best ski poles for Nordic skiing we've found is the Barnett XC-09 Carbon. This carbon pole is impressively lightweight, making it hardly noticeable on long excursions. The carbon construction is also surprisingly durable, so you won't have to worry about using a little extra force when skating through tough sections. Typically, stiffer poles are extremely heavy, but this pole defies the odds with its carbon construction.
The Barnett XC-09 Carbon is one of the best ski poles for skate skiing as well as Nordic skiing, so you enjoy a lot of versatility and value for your dollar. It's also a pole that can stick with you as you advance from a beginner to an expert cross country skier. 
Swix Classic Standard Nordic Ski Poles
A quality set of standard ski poles are just what the average cross country skier needs. This Swix Classic Standard Nordic poles is known as one of the best Nordic ski poles on the market. They can easily be used by men and women and are suitable for varying types of terrain, from groomed tracks to fresh powder and adventurous trails.
The Classic Standard Nordic is a flexible, lightweight, and durable pole that won't need to be replaced as you advance your skills. The ergonomic PC grip is incredibly comfortable, and the Swix BIA straps are designed to help you transfer energy efficiently. They're also easy to adjust to any size mitten or glove, depending on your gear and the current outdoor temperature. This is a classic pole that's suitable for everyday cross country skiers of all abilities and ages.