The Best Ski Poles for Experts
Advanced skiers need advanced ski poles. As an essential piece of ski equipment, the poles you use can have a major impact on the way you ski. Advanced poles can lead to superior balance, turns that are expertly timed, and more precise movements. However, it's important to note that the characteristics of advanced ski poles may vary based on the type of skiing you prefer. Advanced poles for powder skiing have different characteristics than advanced racing poles.
Some characteristics of advanced ski poles remain generally similar despite which type of skiing you're doing most. The following are a few key elements of advanced poles.
lower swing weight
more ergonomic grips
higher strength-to-weight ratio
increased durability while remaining lightweight
We've chosen the best expert ski poles for the 2020-2021 ski season, and you can find them below.
Top 3 Advanced Ski Poles Right Now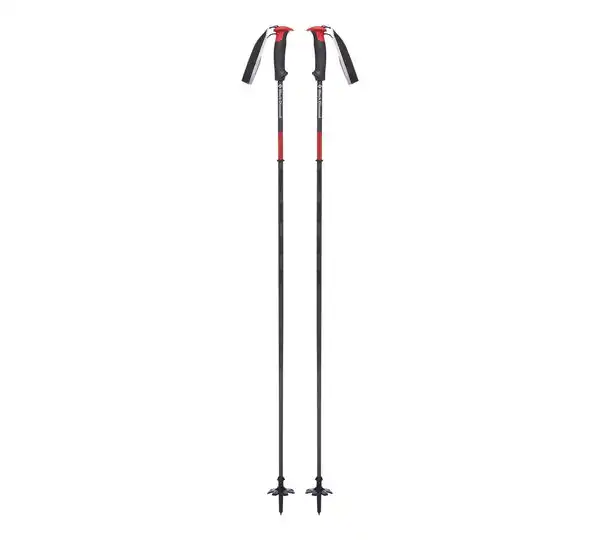 These expert-level ski poles are known for their quality construction and extremely light swing weight. You'll notice a difference the moment you hold them in your hands. We love that this model is surprisingly tough for a carbon pole, and Black Diamond has confirmed that the Boundary is their most durable carbon model.
The Boundary Carbon is an advanced level pole for skiers who like to ski all types of terrain from downhill to backcountry. The hooked grip is designed for flipping climbing bars, which is a major advantage for ski touring. The breakaway strap design is an added safety measure for adventurous skiers. This carbon pole does still stand a chance of breaking under stress, but it would require a serious impact.

Leki has designed the Spark S specifically for aggressive skiers, and it does not disappoint. This pole is made from extremely high-strength 16mm aluminum alloys that remains lightweight as well. The Leki Spark S is a favorite among skilled downhill skiers who value a durable, super lightweight pole with ideal gripping power and a slim look.
Advanced skiers love the Trigger S system, which Leki has perfected. This feature integrates your gloves into the grips, so the poles can be attached or detached within seconds of loading or unloading the lift. You'll love that you're not wasting precious ski time fiddling with your pole straps. The system works especially well with gloves featuring built-in loops.

This carbon fiber and aluminum K2 model is one of the best advanced ski poles for those are addicted to backcountry touring. It features a unique dual-material design with carbon on top and aluminum below. The carbon fiber and aluminum construction allows this pole to be tough while remaining lightweight for carrying on backcountry treks. The tougher material on the bottom portion keeps your pole in tact even if it collides with a rock in the backcountry.
The K2 company has refined the LockJaw Carbon over multiple generations to achieve what is the best version of the pole yet. The length adjustment system features a T6 6000 aluminum lever and Teflon bushings to optimize the force of the clamp without putting too much pressure on the lever. The built-in "Inclinometer" is an added bonus that can help you determine the angle of the slope you're about to conquer.