The Best Ski Poles for Freestyle Skiing
Freestyle skiing requires a lot of skill and enough courage to launch off of kickers, hit the halfpipe, and master complicated rails. In addition to skill, quality park equipment can help you advance more quickly as a freestyle skier.
Freestyle ski poles tend to be shorter in length than traditional downhill poles. This is because a shorter pole allows you more maneuverability in the air, on rails, and on other park features. However, most experts will tell you that freestyle skiing allows you the most flexibility in sizing when choosing poles. Choosing the size that feels most comfortable is typically the most recommended sizing for freestyle skiers, as you're not confined to any one type of skiing.
We've rounded up the best freestyle ski poles for the 2020-2021 ski season below.
Zipline "Lollipop" Carbon Composite Ski Pole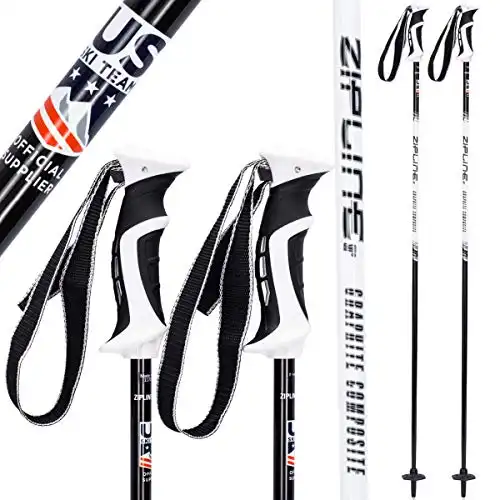 The Zipline "Lollipop" is a no-brainer for freestyle skiing enthusiasts. It has continuously been rated one of the best ski poles for the park. It's so good that it was the pole supplied to and used by the USA Freestyle Olympic Team.
One of the most impressive parts of "Lollipop" graphite composite poles is that they cost roughly half the price of other ski poles with a similar construction. This composite construction also means they absorb more shock and are lighter than traditional aluminum poles. The grips are easy to hold, even when performing the most complicated maneuvers. We believe you'd be hard pressed to find a higher quality freestyle pole at a similar pricepoint.
Atomic Park Ski Poles
The search for the best park ski poles ends with Atomic Park Ski Poles. These are ski poles made for the rail yard, halfpipe, and all of your favorite park features. They're made from ultra-lightweight aluminum and feature a 85mm powder basket and steel tip. The non-slip FR mountain-bike-inspired grip and padded strap make this one of the most comfortable poles you'll find, whether you wipe out or stick the landing.
Atomic Park Ski Poles are surprisingly versatile with the 85mm powder basket, which allows you take these poles from the park to the backcountry without having to own a separate model. There's no better pole for the avid park rider.
LINE Pin Ski Poles
The LINE Pin ski pole is your go-to everyday park pole for locking in grabs and mastering maneuvers. The LINE signature Grab Tabs allow you to hang onto your poles no matter how complicated your maneuvers become. An adjustable strap adds even more confidence that your poles will stick with you whether you pull off those maneuvers or not.
Users continuously describe the Pin as extremely lightweight and comfortable in the hand. The BMX 25mm ergonomic grip adds to the comfort and security. The Pin features a low swing weight, which means you're not as affected by your poles when trying new maneuvers. In fact, these poles are so lightweight and ergonomic that you will hardly notice them, whether you're in the park or other areas.