The Best Ski Poles for Kids Right Now
Kids often ski without poles when they're in the early learning stages of the sport. However, as your little ones advance, you'll want to introduce them to the benefits of using ski poles. Poles help skiers remain balanced and allow you to propel yourself through flat sections more easily.
The most important elements to consider when choosing ski poles for your kids are the size of the poles and your child's skill level. Kids typically begin using ski poles once they've begun learning to make short, skillful turns and are advancing at skiing in parallel. Measure your kids' ski poles the same as you would your own by flipping the pole upside down and holding it just underneath the basic. If your child's arm is at a 90-degree angle, the pole is a correct fit.
The following are the best junior ski poles on the market right now.
K2 Sprout Adjustable Kids Ski Poles
K2 Sprout Adjustable Kids Ski Poles
You have to plant the pole to blossom into a full-grown skier. The K2 Sprout Ski Poles are the perfect set of sticks to usher your young skier through the first stages of skierhood. With 12" of adjustability, their favorite ski poles can stick with them for more than one just season.
Information provided by evo. evo.com.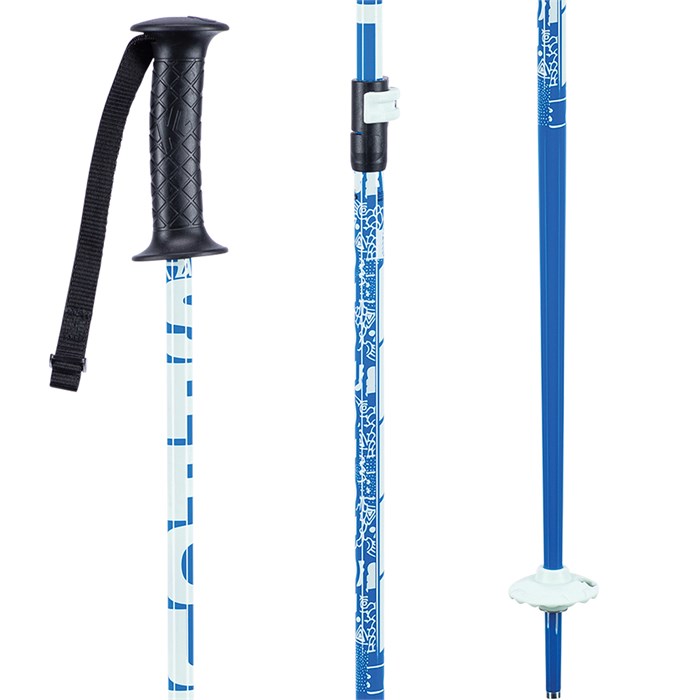 An adjustable pole is a great investment for parents and guardians of little ones. The K2 Sprout Adjustable can grow with your kids, ranging from 75cm to 105cm, so they can use this pole for multiple ski seasons. The larger basket size keeps the pole from sinking too deep into the snow, while the adjustable straps and comfortable rubber grip keep the poles secure in kids' hands. The K2 Sprout Adjustable is a pole that will help your child advance year after year on the slopes.
LEKI Racing Ski Poles 
LEKI Racing Kids Ski Pole
Modern ski poles from Leki. These poles are made from lightweight, durable aluminium. The ergonomic handle with safety loop provides high comfort and control. The steel tip with replaceable racing plate provides a secure grip on almost any terrain.
This LEKI model is named for racing, but it's a quality kids' pole for all resort trails. Aluminum construction makes these poles lightweight and easy for your little ones to carry yet durable enough to endure the wear and tear kids can put on them. Additionally, LEKI racing ski poles feature comfortable grips, a steel tip, and small racing baskets. The bright red and yellow color tones are fun for kids, but they also make your little ones easier to spot on the slopes.
Salomon Kaloo Junior Alpline Ski Poles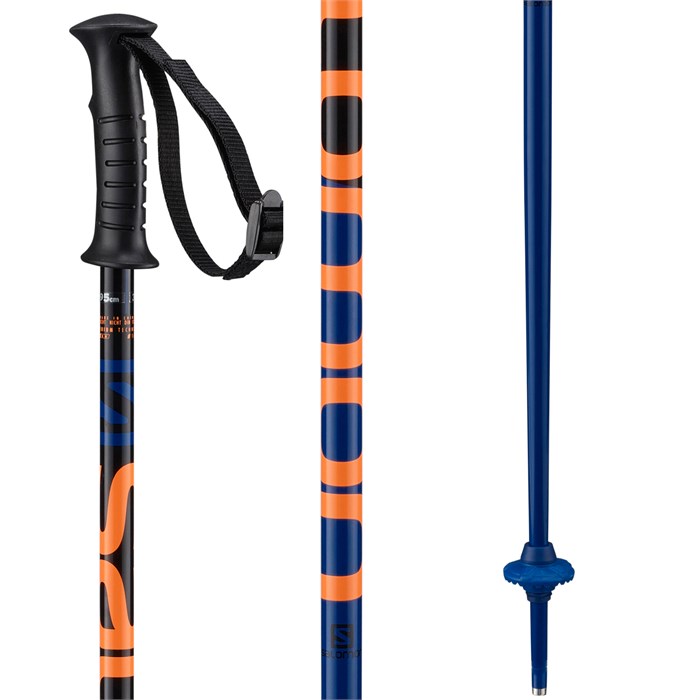 Salomon offers the Kaloo as an afforable pole that's ideal for kids who are currently advancing their skills. The lightweight aluminum construction allows this pole to weigh in at just 130 grams, making it possible for your little ones to haul some of their own gear from the car to the slopes. The Salomon Kaloo Junior Alpline is a no-frills, basic yet comfortable pole that won't break the bank.
Volkl Phantastick Kids Ski Poles
The Volkl Phatnastick is one of the most popular ski poles on the market for adults, so it comes as no surprise that the kids' version is just as desirable. The aluminum alloy shaft is lightweight enough for your little ones yet durable enough to endure harsh use. The Phantastick Kids also features a secure grip that allows kids to hold onto the pole more tightly, whether they're on the chairlift or mastering turns. These poles are available in a variety of lengths to suit a wide range of kids.