The Best Ski Poles for Powder
Powder skiing requires an advanced skill set and advanced equipment. Many times, skiers view ski poles as a piece of equipment that doesn't need to be too technical. However, ski poles are an important and often underrated piece of ski gear, especially in deep powder.
Ski poles for powder riding are designed differently than ski poles for groomed trails. Many powder ski poles are specifically designed to help you reach deeper powder in the backcountry. They're geared toward trekking as well as providing stability and helping you gain speed for those big, powder carves. The following are the best powder ski poles available right now. 
Dynafit Speed Vario 2.0 Ski Poles
Lightweight poles are ideal for powder skiing, and these Dynafit Speed Vario 2.0 poles are some of the most lightweight you'll find. They're made of 100-percent carbon which allows them to weigh in at 14.7 ounces for the set. This is especially helpful on long expeditions in search of ultra-deep powder.
This Dynafit model is also loaded with features. They offer a special push-button system that allows you to adjust the length from 41.3 inches to 57.1 inches for climbing steep terrain or descending in chest-deep powder. A strong closure system ensures your poles stay set at the length you choose. Ultra comfortable Dynafit 2K grips and unique EVA grip extensions ensure your hands remain comfortable whether you're climbing or skiing. The company's 2K powder baskets will keep your poles afloat when the powder gets extremely deep.
Black Diamond Razor Carbon Pro Ski Poles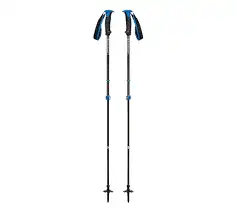 These Black Diamond backcountry poles are a favorite of off-piste enthusiasts. The Razor Carbon Pro is a top choice for backcountry adventures, because of its ability to combine an extremely lightweight feel with a durable construction. The bottom section of the pole is flexible carbon while the top is a thicker aluminum. Despite the partial aluminum construction, this pole weighs in at 18.4 ounces.
Other impressive features of the Razor Carbon Pro include the flawless FlickLock Pro adjustment system, a touring ring, and breakaway grips. This Black Diamond model is one of our favorites for powder skiing, because it combines durability with a lightweight construction, comfort, and safety features for difficult terrain.
Black Diamond Vapor Ski Poles
There's a reason this pole was named the Vapor, and that's because its weight is practically unnoticeable. We find the Dynafit Speed Vario 2 offers an extremely lightweight feel, but the Vapor weighs in even more impressively at 10.4 ounces. This ski pole features an all carbon construction with glass fibers throughout the one-piece shaft for added strength. This model by the iconic Black Diamond backcountry skiing company truly feels light as a feather.
New updated grips for the 2020-2021 season add more comfort than previous models, and the sticky rubber aids in adjusting bindings and buckles while on steep slopes. We've found that the Vapor is another impressive powder pole by Black Diamond.