What are Ski in Ski out Resorts?
What does ski in ski out mean?
All over the world, many ski resorts and lodges cater to beginners, advanced skiers, or those who ski just for fun. But not all locations are built directly next to slopes or mountains. If you are not careful, you could end up vacationing at a resort nowhere near ski slopes. By booking the wrong type of accommodations, you and your party have to haul all of your skiing equipment to a completely different area.
But when you rent a room at a resort for ski in ski out skiing and snowboarding, you can step out of the front lobby and take a seat on a ski lift right to the top. There is no need to drag your equipment through the snow or load it into a transport. Just change into your gear in your room, grab your skiing equipment or snowboard, and enjoy your time out on the slopes.
As you may have guessed, ski-in ski-out resorts are situated directly below the area where skiers land at the bottom of a mountain or slope. The accommodations can be located at the top of the mountain, in the middle of an easy run, or accessible by ski lift as well.
Why you should stay at a ski in ski out resort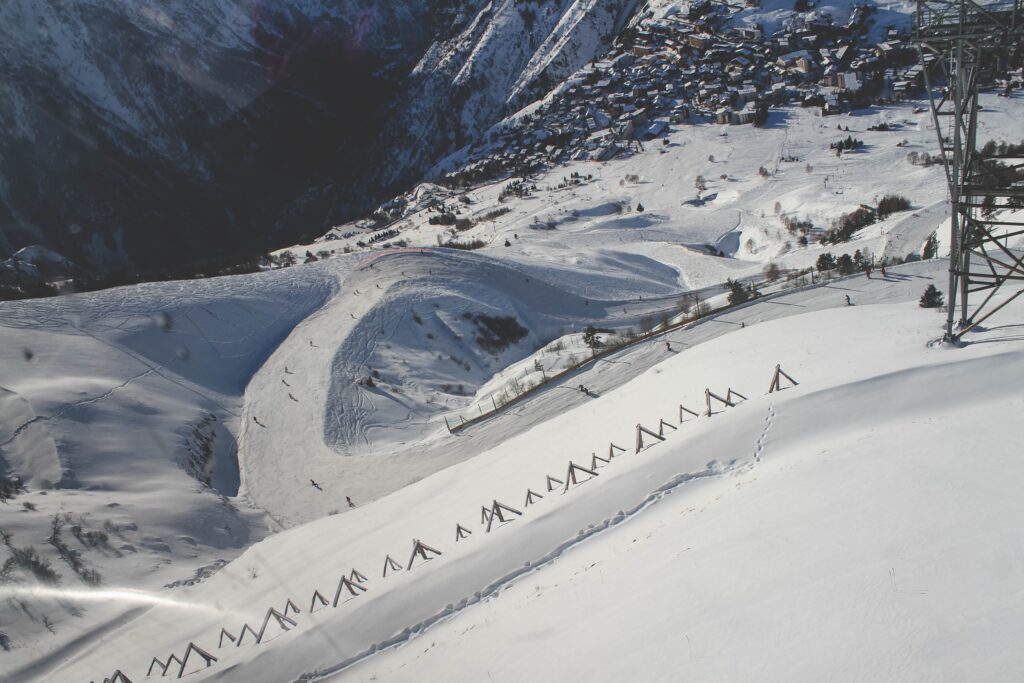 It's already halfway through this long year, and before you realize it, winter will soon be here! So if you're planning a ski vacation, by yourself or with family or friends, now is the time to book a resort room. However, one aspect of skiing that makes newbies hesitant is the amount of travel you have to do, especially while hauling pounds and pounds of equipment. But if you stay in a ski-in ski-out resort, you'll save time and energy, which can be spent out on the slopes.
Resorts that have ski-in and ski-out accommodations have many benefits, especially for large groups or families. If you forget something at your hotel, you don't have to turn around and drive back, all you have to do is ski down the slope or take a lift back up. Ski in ski out resorts make scheduling your day around skiing easier, especially if you have children.
These lodges or resorts are especially ideal for beginning skiers who are more likely to injure themselves due to inexperience. If someone is injured on the slopes, it's easier to return to their hotel room and receive aid. Medics can also reach the injured faster.
What other amenities do ski in ski out resorts offer?
Because these types of resorts lodges, or cabins are close to mountain shuttles and ski lifts, they have the option to offer more services than hotels that are farther away.
If you need help learning to ski, ski classes are available for adults as well as children. Do you and your loved one want a few hours to yourselves? You can book a private instructor to take your children snowboarding or skiing while you both stay in the pool or jacuzzi and relax.
Resorts that host skiers and snowboarders know that they are hungry when they return to the hotel, so they will offer free snacks and warm drinks to replenish their energy and warm up their patrons. They also know that some equipment cannot sit on a ski lift, so shuttles are available, but some shuttles may not be free. But most places do offer a shuttle pass.
But the most significant advantage ski in ski out resorts have is that their patrons are not as affected by heavy snowfall as other people who book hotels in farther locations.
3 Great Ski In Ski Out Resorts
Deer Valley, Utah
Located in Deer Valley Utah, the Stein Eriksen Deer Valley Lodge, the atmosphere is luxurious, and its decor is classically antique. Once you're ready to ski, take a ski lift or free shuttle ride to the slopes.
And if you have the cash, there is a full-service ski locker, and ski valet is available to rent while you stay at the lodge.
But be sure to request a room that is close to the elevator or the stairwell. Many reviewers said that the grounds of this hotel are so vast, they have to take a breather before getting on the slopes.
After riding the slopes, you can take a drive to Park City, the downtown area, which is packed with late-night entertainment, restaurants, and shops.
Mammoth, California
Mammoth is one of the best cities to experience nature in all its beauty in the United States. Mammoth never fails to delight its skiers and snowboarders in the winter. Juniper Springs is an inexpensive resort for skiers who wish to experience the powdery slopes without destroying their budget.
It has many different amenities, including a game room and a gym. Its ski lift, which takes its riders to the top of Mammoth Mountain, is located directly outside.
If you left something back at home, do not fear. In the front lobby of the Juniper Springs Resort, you can rent ski and snowboarding equipment.
Quebec, Canada
Canada has plenty of snow, so there is no shortage of skiing resorts and lodges in the country. So if you're planning on going to Quebec to hit the slopes, book a few nights at The Le Baluchon.
This resort was constructed with nature in mind, so it is eco-friendly, and it cooperates with the environment instead of imposing on it. During the winter, this resort offers cross-country skiing, snow hiking, snowshoeing, and even snowmobile rentals.
When you get tired of the slopes, they also have a gym and offer archery lessons. Many reviewers state that the resort offers carriage rides for children as well.
Conclusion
There are advantages to booking a room at a ski-in ski-out resort. You don't have to lug your equipment, returning to your hotel room is quick and easy, and free snacks are available after a long day on the slopes. Many websites have a list of the best ski-in ski-out resorts, so they're easy to find and book. So next time you take a winter vacation, make it easy on yourself. Book one of these types of resorts.
Other Articles to Check Out
Looking for more info for planning your ski trip? Check out all our posts about skiing terminology or jargon here. You can also check out all of our gear reviews here.