What is Freeride Skiing and How do You Get Started?
Braving the freezing weather and riding the slopes is both scary and empowering. But what if you don't want to hang around crowds of people? Can you go off the beaten path and find a little skiing area just for yourself? If you have been craving solitude whenever you start to ski, then it may be time to introduce you to a skiing style called freeriding.
What is Freeride Skiing?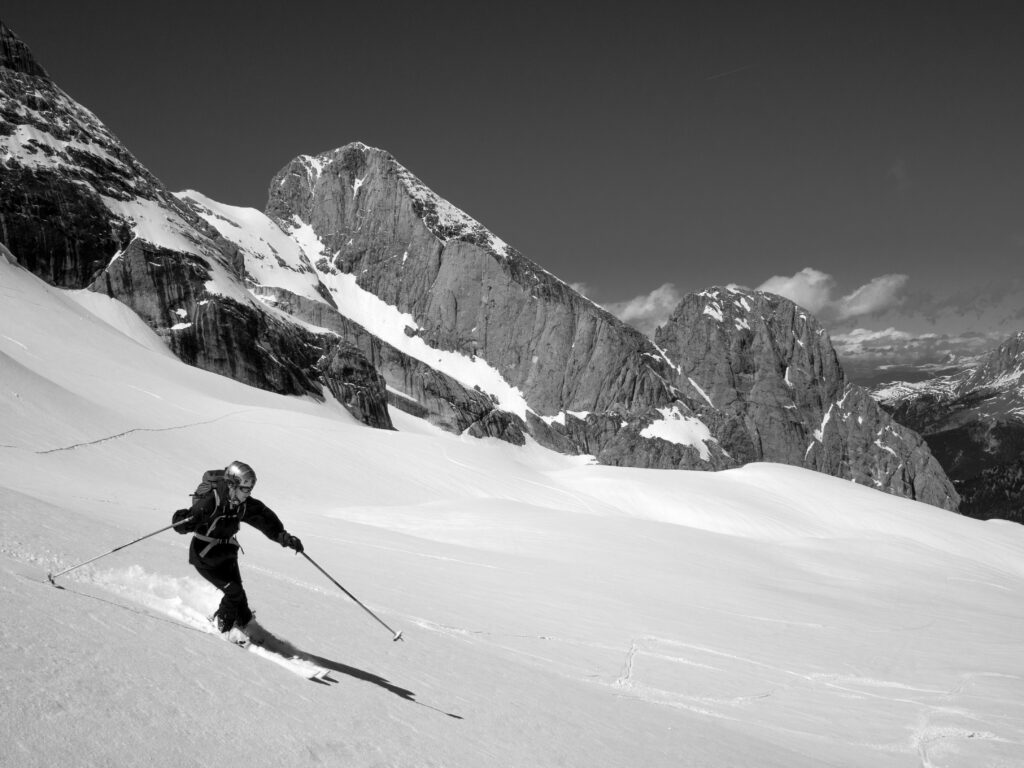 Freeride skiing is a type of skiing where the skier goes away from the main trail or skiing area so they can experience steeper hills and slopes. Skiers who freeride enjoy finding fresh snow that is untouched by others. Going off the trail and skiing through untouched land is known as off-piste skiing, but freeriding is different. Those who practice off-piste skiing go off the trails but stay close to the main slopes. When a skier decides to freeride, they travel far away from all marked slopes and trails. It may take the skier an hour or more to get to their destination.
Skiers who regularly practice freeriding believe that it is more enjoyable for them because they are not around any crowds. The snow is soft and powdery because hundreds of other skiers and snowboarders have not flattened it. They can be at one with nature, and they have time to take an uninterrupted breath.
If someone practices off-piste or free riding, they usually are more experienced and have been skiing for a few years. They are not beginners. Navigating unmarked lands to find new slopes and hills is not for the faint-hearted.
What you need to know to start Freeriding
To freeride the right way, you must wait for one solid day of heavy snowfall. One of the best aspects of freeriding is finding large tracts of untouched land coated with piles of fluffy snow. It is every skiers and snowboarders' dream! Don't freeride after a strong blizzard or when the snow on the ground turns to slush.
One day of heavy snowfall or a few days of light snowfall should coat the ground consistently and turn any piece of land into a skier's paradise. Not only is the snow fluffy and softer to land on if you fall, but when you look behind your body, you'll see huge clouds of snow rising up into the air as you ski your way down the mountainside.
Freeriding Equipment
Though it may sound like overkill, you must have a flare or some emergency signal in case you are stranded or injured. Because you are free riding, you will be far from all the other skiers and snowboarders. Skiing far away from others is dangerous because you could easily end up alone for hours at a time. Before you go, tell someone what you're planning to do and where you are going. If you are alone at a hotel or resort, you can leave a note with a concierge or with the front desk.
Next, you need a tasty snack. The best kind of snack will keep you full for a long time and has slow-release carbohydrates to replenish your energy without inflicting a sugar crash on you. Along with snacks, be sure to take electrolytes to replenish all the salt and minerals that you expelled out through your sweat.
The third piece of equipment to take with you while freeride is a transceiver. A transceiver is a small device worn inside your jacket or vest. This device helps search and rescue parties find you if you are injured, passed out, or dead. A transceiver is one of the main reasons why people are recovered from avalanches. Without this device, there would be no way to find a person buried under tons of snow.
Best places to Freeride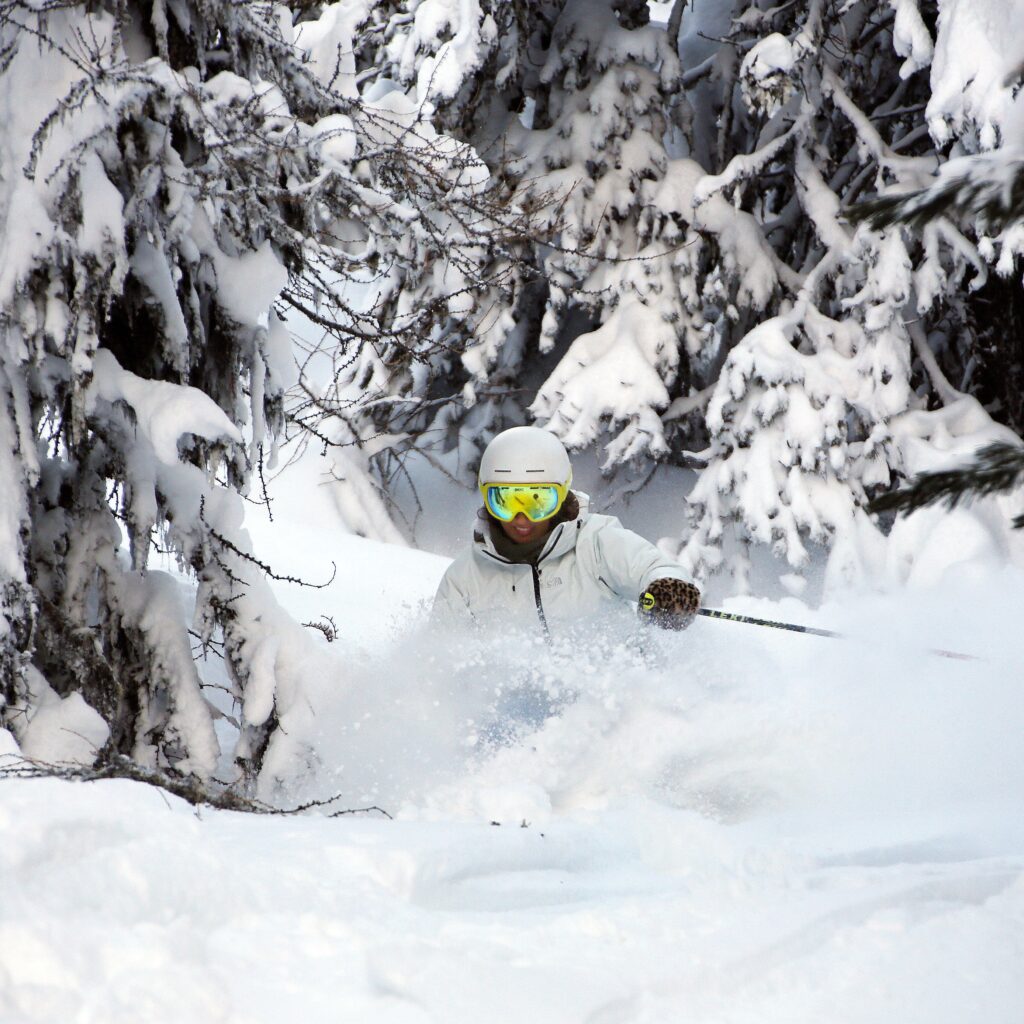 Just because an area has skiing and snowboarding, that doesn't mean there are great places to freeride. You must find a place that regularly receives snowfall and is surrounded by sloping mountainsides and hills.
One of the best winter countries in the world to discover great freeriding areas is Canada. Much of the country has snow for half of the year. Along with thick blankets of snow, Canada is covered in dense forest and beautiful mountain ranges. Here are two great places that you can explore when you finally become advanced enough to freeride.
The first place you should explore in Canada is North Okanagan. With a forest that expands farther than the eye can see, there is no limit to what you'll discover when exploring the forest and the mountainsides. The area surrounding the lake is for advanced skiers only, as it will take you far off the beaten path away from everyone. It has plenty of trails and hills to ride and navigate. In the winter, North Okanagan has some of the thickest snowfalls in the whole country.
The next place you should explore is Mount Morrissey and Sundance Mountain, which are in British Columbia. One-third of all the slopes on these mountains are extremely difficult, and the worst trail is known as Freddy's nightmare. This dangerous trail is only 2.2 miles long, but you will drop 1200 ft in elevation. And if you return during the summer, you'll find great off-roading and mountain biking trails where you once skied.
Conclusion
Freeriding is not for beginners. Before you decide to embark on freeriding or even off-piste skiing, you will need a good amount of experience under your belt. When you're finally ready, be sure to take a transceiver and an emergency signal so search and rescue can find you if you're injured or lost. And, always inform someone else where you are going and what time you should be back. No matter what section of the globe you are in, you can always find great places to freeride. You just need to go to a slope or mountain side with lots of forests, hills, and unexplored lands. Don't forget to charge your smart phone so you can take pictures of all the wonderful secret skiing areas you can find!